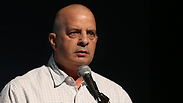 Yuval Diskin
Photo: Tzvika Tishler, Yedioth Ahronoth
In 2012, the six surviving former heads of Israel's internal security service, known as the Shin Bet, went on camera to give an honest account of their experiences.
The film, "The Gatekeepers," directed by Dror Moreh, was nominated for an Academy Award for best documentary and received wide international acclaim.
In a segment that was not included in the final film, Yuval Diskin (Shin Bet chief 2005-2011) and his immediate predecessor Avi Dichter (2000-2005) discuss what it really means to be the man in charge with terrorists on the loose.
Part 2 of 2
Do you talk with the people in the operations unit?
Diskin: Yes, we talk with them. I spoke with them quite a bit in the difficult years (the Second Intifada). The number of operations in general that we did during those years was very high. We became very tired both physically and mentally. There is a lot of pressure. At the end of the day there's nothing you can do; we're human beings and we get worn out from this type of thing. I have no doubt that the people who worked with us, as well as in other units, paid the price and maybe are still paying the price from that era of terror.
In the case of the Sha'alvim terrorist, we managed to find the terrorist in one of the cars with explosives. It's understandable that this drama stirred up the press in Israel and everyone applauded the Shin Bet and put us on a pedestal. It was great to read that in the papers, but inside the organization I ordered for there to be a ruthless debriefing because from our perspective we were supposed to have stopped the terrorist before he entered Israel.
Failure on our part
The fact that we caught him at Sha'alvim at the last minute was perceived as a failure on our part, not a success. Let's say that he does commit suicide. Instead of turning onto Road 1 he says, wait, why should I drive to Haifa? I'll enter Jerusalem and I'll detonate myself on King George Street, right in the center of city… we wouldn't have been able to stop the attack.
What's more dramatic for the public than to know that our good boys of the Shin Bet and the Yamam (an elite counter-terrorism and SWAT unit) catching the terrorist right before he reaches his destination? They really are great workers and they really did do fanatstic work, but we should have caught him 50 kilometers beforehand.
And that's not their fault, rather it's ours, those who make the decisions, who were a bit rusty, as I said earlier, and it took us a bit of time to send off our special unit and take all the necessary steps in order to catch the terrorist. Therefore, in a lot of management courses, I tell the people serving with us: "Don't believe what they're writing about us in the newspapers. Believe what you know to be true about yourselves."
What goes through your mind when you hear that there's a terrorist with explosives on his way to execute a terrorist attack?
It'll surprise you. These aren't the most difficult times in our lives. You're so pumped up with adrenalin and you're so focused on the intelligence and operatives and making decisions, that this becomes your "aquarium" where you get used to swimming, and we feel fine and comfortable there.
You're focused, sharp, you understand what's going on, you know what your tools are, you know what actions need to be take, you're tense because you want these things to happen, and at the right time, and you hope that you got to the suicide terrorist or to the potential attack where you want to be. Understandably, on the way, things don't always happen the way you want, but feelings usually come after – if you've succeeded or failed.
I can't describe how everyone else feels. I only know how to describe my experiences. There are times where there's a transition from being so elevated – knowing that you succeeded in a mission and you realize what exactly was prevented at that exact moment – to a feeling of emptiness. It's as if all the air left your body. All of sudden you feel that you can relax, and then you turn into a balloon that its air has been let out of and you don't feel anything.
And if God forbid we've failed, and the attack took place, and there were times like these, unfortunately, it's an awful feeling. You can't describe our disappointment, especially in cases where we had information and despite that we didn't succeed to prevent it. People take it hard, especially those who make the decisions.
Six suicide bombers in one day
The most difficult day that I remember from the Second Intifada was when we had to deal with six different attacks. On that day we simultaneously dealt with six different areas, attacks that were heading to our vicinity on one day. About from 5 am to midnight we sat, a large group of people, and like the Dutch, we kept trying to close the hole in another part of the dam. By the way, we finished the day with a 100% success rate, but I can't remember another day like this.
There were six suicide bombers on their way to Israel?
There were six terrorists on their way to six different areas on one of the most difficult days of the Second Intifada. I remember the night before, (Defense Minister Moshe Ya'alon) Bugi, who was IDF deputy chief of general staff, and I, who was deputy head of the Shin Bet met in this room, and I said to him: Bugi, listen, these are the attacks that are going to happen. We're seeing a buildup of warnings, and we have to be ready with a lot of resources and tools and units and other necessary things.
We sat here and we settled together what would be the plans and how we're gong to work in real time. We made a general recruitment of all of the IDF's and our tools and resources, and with tremendous cooperation that day we succeeded to prevent them all. But that was a very tumultuous day. I don't remember another one like it.
How do you describe something like this… you can watch the TV show 24… but here there are six attacks on one day?
Diskin: There are also other difficulties. When I was deputy head of the Shin Bet, one of our officers in the operations unit, who was in a lot of operations during the era, wanted to talk to me in private. He told me: Listen, Yuval, I'm in a lot of situations that it's difficult for me to deal with them. We're trying to catch a lot of wanted people with blood on their hands and when we get there we find out that he's in an apartment building. Sometimes there are a lot of stories. Two, three, four, and in a city it can be a lot higher. You don't always know where he is, in which apartment. You know that he's armed, and sometimes you know that he's carrying explosives on himself.
How do you deal with a situation like that? How do you start removing people from the house? And usually these types of operations happen in the late hours of the night, and seniors and women and babies have to come outside, and sometimes it takes hours to get to the terrorist. And, suddenly, there are people standing on the side, with their needs. They want to rest or they want to go to the side to go to the bathroom or to do other things. We're so busy that it's as if we've sealed ourselves off to what's happening on the side, to the people.
At the end of the day I'm a human being
He said to me: Listen, it bothers me that because all day and all night we're running over and over again that we've become tired and have stopped being sensitive to these small issues. At the end of the day I'm a human being. It doesn't matter if I'm in the Shin Bet, the army, at the end of the day I'm a human being. I understand why it's important to do what we're doing, but these people need to wake up and get out of this position.
And that's why we decided to produce this film.