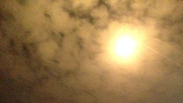 Interception
Photo: Dor Romer
The radical Salafi organization Ansar Bait al-Maqdis took responsibility for the rocket fired towards Eilat Friday night.
In an announcement by the al-Qaeda affiliate, the organization said the rocket was launched towards the Jewish State because of the "cooperation between Egypt and Israel and the bombing of Gazan residents."
The organization, which has taken responsibility for similar events in the past, sent Israel a message: "Nothing will stop us from fighting you and hurting you."
The Iron Dome missile defense system intercepted a rocket launched at Eilat on Friday, the IDF Spokesperson's Unit reported. Several minutes earlier, a red alert siren sounded in the southern city, after security forces detected the launch from the Sinai Peninsula.
Security sources were patrolling the area, but no hits were detected.
Chen Oved, an Eilat resident, told Ynet after that he and his family ran to a fortified room once the siren was heard.
Related stories:
According to him: "We've come to realize that we're in the line of fire. It's unacceptable. I think we need defense officials to respond. They need to realize that something is happening. Not that another rocket salvo hits and nothing will be done."
On Thursday, a rocket launched from the Gaza Strip hit an open area in the Sdot Negev Regional Council. No injuries or damage were reported, prompting the IDF to lauch a retaliatory strike on the Gaza Strip.
Four Palestinians were injured as a result of the IDF's airstrike.
Defense Minister Moshe Ya'alon confirmed reports that the IAF struck three direct Hamas targets in the strip, noting: "We will not tolerate rocket fire on Israel.
"The IDF and other security forces will continue to chase after those who shoot at Israel or try to execute terror attacks, and they will not hesitate to attack those attempting to do so."
Tensions have recently risen in and around Gaza after a year of relative calm, with six Palestinians and an Israeli killed since December 20 and rocket fire sparking retaliatory air strikes.
On Wednesday, Military Intelligence Chief Brigadier General Aviv Kochavi said that despite a drop in the number of missiles and rockets threatening Israel, their level of precision has drastically risen.
"Some 170,000 rockets and missiles are threatening the State of Israel from all regions. Up until recently, the number was much greater and it has decreased, but it will go up again," he said.
Roi Kais contributed to this report