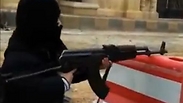 The 4-year-old in action
Photo: Video Screenshot
A four-year-old boy fires a Kalashnikov rifle and is presented as a new recruit for the Syrian civil war, in a new video released by al-Qaeda .
The short clip, which was posted to YouTube but has been removed several times, shows the son of an Albanian jihadi, who arrived in Syria as many thousands of his countryman have – to fight against the Assad regime.
Four-year-old child firing gun in Syria (צילום: youtube )
In the video, which was hosted Saturday morning on the Daily Mail website, the boy is shown wearing black clothing and firing a Kalashnikov so heavy that the child needs to rest the barrel on a support, just to avoid falling over.
Related stories:
In the background, screams of "Allahu Akhbar" can be heard.
The clip was first uploaded on January 21 to a YouTube channel run by jihadi fighters claiming to be in northern Syria, and its title referenced the al-Qaeda-affiliated terrorist organization the Islamic State of Iraq and Syria (ISIS).