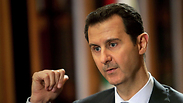 Embattled Syrian leader Bashar Assad is stockpiling weapons of mass destruction rather than handing over them as agreed last summer, the Sunday Times reported, quoting Israeli and Russian sources.
The report cites the sources as saying that the WMDs, which include chemical and biological weapons, are being upgraded with North Korean and Iranian assistance, and are believed by the Israelis to be located in Western Syria, in "the heartland of his Alawite sect". They are to serve, the paper said, "as an insurance policy in case (Assad's) country is eventually partitioned."
Related stories:
This area where the weapons are stored, according to the report, includes the coastal region around the port city of Latakia, which last week was bombed in an attack that Palestinian sources said had been carried out by Israel.
The report also quotes a source in Israeli military intelligence as saying that, "This region is now totally fortified and isolated from the rest of Syria".
One of the sources reportedly told the Times: "Syria has given up only about 4% of its chemical weapons arsenal, will miss this week's deadline to send all toxic agents abroad for destruction, and probably will miss the June 30 deadline when the entire 1,300 tons of lethal chemical weapons were due to be destroyed."
Assad, whose regime last week took part in peace talks in Geneva with the opposition forces determined to topple him, is reportedly looking to consolidate his rule in the small area of Syria that is home to his Alawite sect. The sect, despite only comprising 10 percent of the Syrian population, has held power in the country since the 1960s.
Last summer, Assad narrowly escaped what appeared to be a certain American attack following widespread claims of his regime using chemical weapons on the civilian Syria population. Under the terms of an agreement brokered at the last minute, the regime was to give up all of its chemical weapons to international observers. But last week, the Obama administration said only 4 percent of Syria's chemical weapons had been taken out of the country, and accused Assad of stalling on the removal of the WMDs.