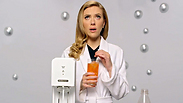 Scarlett Johansson plugs SodaStream
Photo: AP
After standing up to calls to boycott an Israeli company she represents, actress Scarlett Johansson has won support from an unexpected quarter - Foreign Minister Avigdor Lieberman.
The American Jewish actress last week resigned as an ambassador for the Oxfam charity, after the two butted heads over her sponsorship deal with Israeli company SodaStream, which has a factory in the West Bank.
Related stories:
All's fair in boycott of Israel
In a Facebook post, Lieberman said "I would like to express my support for actress Scarlett Johansson, who took a brave stand against immoral hypocrites."
Johanssan was showered with criticism after she agreed to the multi-million-dollar sponsorship deal.
"There was an attempt by pro-Palestinian organizations to attack Johansson for being a 'brand ambassador' for Sodastream, which has a factory in Ma'aleh Adumim. However, the actress has not folded or apologized in the face of these attacks," Lieberman said, adding that "rather she took a clearly principled stand against those who disguise their classic Antisemitism under false pretenses. Our Oscar goes to Scarlett!"
Johansson announced on Thursday she had quit her role as ambassador for Oxfam, which had said that her cooperation with SodaStream was "incompatible" with the organization's agenda.
The dispute has won praise for Johansson from the World Jewish Congress (WJC), sharp criticism from a Palestinian group advocating a boycott of all Israeli goods - and a big dose of publicity for SodaStream.
"In a sense, I think everybody in some way has got some attention out of this," Mark Borkowski, a London-based public relations specialist and author, told Reuters.
SodaStream employs Palestinian and Israeli workers and says its plant offers a model of peaceful cooperation. But Jewish settlements are deemed illegal under international law and are condemned by Oxfam, which has a large operation in the region.
After consultations this week with Oxfam, whose ambassador she has been since 2007, Johansson informed the charity that she would end the relationship.
Announcing its acceptance of her decision, the charity said: "Oxfam believes that businesses, such as SodaStream, that operate in settlements further the ongoing poverty and denial of rights of the Palestinian communities that we work to support."
Yonah Lloyd, SodaStream's chief communications officer, said the company did not court controversy and hoped that potential customers would look beyond it to the firm's product.
"We don't invite this publicity, but we certainly hope at the end of the day it will generate lots of thought on the beautiful thing we are doing for our employees."
The WJC applauded Johansson for "her forthright defense of economic cooperation between Israelis and Palestinians and for standing up to the international bullies" and criticized Oxfam.
"By ending its association with Miss Johansson ... Oxfam has chosen to align itself with the unprincipled and anti-Semitic BDS movement," WJC CEO Robert Singer said in a statement, referring to groups urging boycotts, disinvestment and sanctions against Israel and Israeli goods.
"This was a cowardly act that Oxfam should realize is a reprehensible and damaging mistake," Singer added.
In contrast, Omar Barghouti, co-founder of the Palestinian Campaign for the Academic and Cultural Boycott of Israel, claimed a win for his campaign, saying the company and actress had both been weakened by the dispute.
"(SodaStream) was exposed to the whole world as an occupation profiteer. Prior to this, most SodaStream customers had no idea that it is involved in grave violations of human rights," he told Reuters, adding that "Johansson's reputation as a defender of human rights has suffered irreparably".