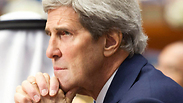 The State Department issued a pointed statement Sunday clarifiying Secretary of State John Kerry's opposition to any boycott of Israel, after Israeli politicians appeared to misinterpret his warning that failed peace talks with the Palestinians could exacerbate calls for the Jewish state to be sanctioned in this way.

"Secretary Kerry has a proud record of over three decades of steadfast support for Israel's security and well-being, including staunch opposition to boycotts," said a statement from State Department spokeswomanJen Psaki.

Related stories:

"At the Munich Security Conference yesterday, he spoke forcefully in defense of Israel's interests, as he consistently has throughout his public life. In response to a question about the peace process, he also described some well-known and previously stated facts about what is at stake for both sides if this process fails, including the consequences for the Palestinians. His only reference to a boycott was a description of actions undertaken by others that he has always opposed.

"Secretary Kerry has always expected opposition and difficult moments in the process, but he also expects all parties to accurately portray his record and statements."

The comments were made after Kerry came under fire from Prime Minister Benjamin Netanyahu and members of his cabinet, who seemed to believe that the secretary of state had in fact supported a boycott.

"The attempts to boycott the State of Israel are not moral or justified," Netanyahu said at the start of the weekly cabinet meeting in Jerusalem. "Moreover, they will not achieve their purpose. Firstly, they only serve to make the Palestinians become more entrenched in their stance of refusal. Secondly, no pressure will make me abandon the State of Israel's vital interests, of which security of the civilian population is foremost."

Strategic Affairs Minister Yuval Steinitz also weighed in, calling Kerry's comments "offensive, unfair and intolerable."

"You can't force the State of Israel to negotiate with a gun to our heads while we are discussing the most criticial of our national security interests," Steinitz said.

Meanwhile, Economy Minister Naftali Bennett, who has been vocal in his opposition to some of the proposed terms of a final status agreement, said Saturday that "the advice-givers" should know that Israel will not abandon its land because of economic threats. "We expect our friends around the world to stand beside us, against anti-Semitic boycott efforts targeting Israel, and not for them to be their amplifier," Bennett said.

During his speech to the conference Saturday, Kerry warned that the status quo between Israel and the Palestinians was unsustainable. While there is prosperity and momentary security in Israel, he said, it is an illusion that is bound to change if talks flounder.

"The risks are very high for Israel. People are talking about boycott. That will intensify in the case of failure. We all have a strong interest in this conflict resolution," Kerry said. "Today's status quo absolutely, to a certainty, I promise you 100 percent, cannot be maintained. It's not sustainable. It's illusionary. There's a momentary prosperity, there's a momentary peace."

This is not the first time that Israeli politicians have lashed out at the secretary of state during the current US-led talks, which began last summer. Defense Minister Moshe Ya'alon sparked a diplomatic spat between the two nations last month, when he dismissed Kerry's security proposals as "not worth the paper they are written on." The secretary of state, Ya'alon said in comments reported exclusively by Ynet, was "messianic" and "obsessive".