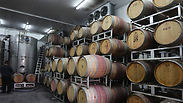 Boycotted Israeli wine
Photo: Gil Yochanan
American pressure to settle negotiations between the Israelis and Palestinians has recently brought the word "boycott" to the front on countless occasions. But the boycott of Israel goes way back.
Boycott map (Courtesy of Yedioth Aharonoth)

Most recently, Finance Minister Yair Lapid said last week that a European boycott would dramatically hit the average Israeli's pocket.
Follow Ynetnews on Facebook and Twitter
During a speech at an Institute for National Security Studies (INSS) conference, Lapid delivered a stern warning regarding Israel-PA peace talks.
"If the negotiations with the Palestinians stall or collapse and we enter the reality of a European boycott – even if it's extremely limited – the Israeli economy will falter and every Israeli citizen will feel the pain directly," he said.
Lapid said harsh words, not shying away from using real figures.
"Production will be hurt by NIS 11 billion ($3 billion) a year and 9,800 workers will be fired immediately."
Last month, AP reported that the export-driven income of growers in the Jordan Valley's 21 settlements dropped by more than 14 percent, or $29 million, last year. Settlers say it's largely because Western European supermarket chains, particularly those in Britain and Scandinavia, are increasingly shunning the area's peppers, dates, grapes and fresh herbs.
Related stories:
'The damage is enormous'
"The damage is enormous," said David Elhayani, head of the Jordan Valley Regional Council, which represents about 7,000 settlers. "In effect, today, we are almost not selling to the (Western) European market anymore.
In his speech, Lapid drew from a list of organizations and individuals that are boycotting Israel, including the Irish Congress of Trade Unions, the United Church of Canada and the American Studies Association.
Norway has also blocked its $820 billion pension fund from investing in two Israeli companies because of their construction activities in East Jerusalem.
In December, Vitens, the largest supplier of drinking water in the Netherlands, decided to end cooperation on projects with Israel's national water carrier Mekorot over its operations in West Bank settlements.
More and more countries, NGOs and companies have joined the 2005 "Palestinian Civil Society Call for BDS," an initiative that calls for "the world to impose broad boycotts and implement divestment initiatives against Israel similar to those applied to South Africa in the apartheid era."
Justice Minister Tzipi Livni , in response to those saying that she is supporting a political boycott, said last week in a government meeting that it was those who wanted to keep building in the West Bank who were supporting boycott.
"Those who insist on building and encouraging settling in isolated settlements are those who encourage international boycott on Israel. Those who are working towards a political agreement are those who want to stop the boycott and the damage to Israel's economy," she said.
Earlier in the meeting Livni and Lapid had words when Lapid attempted to present and pass a new national priority map of the communities set to receive tax benefits from the government. A conflict between him and Livni broke out after she learned the list included a number of settlements and outposts.
Livni on her part expressed concern at the possible political and international ramifications of adding the remote settlements to the map, and demanded that a new and later hearing on the issue be held in a bid to prevent – or at least postpone – international criticism.
Further threatening a coalition break-up, Prime Minister Benjamin Netanyahu hit back at Secretary of State John Kerry on Sunday, over the top American diplomat's warning of further sanctions against Israel should the current peace talks with the Palestinians fail.
Boycott is not justified
"The attempts to boycott the State of Israel are not moral or justified," Netanyahu said. "Moreover, they will not achieve their purpose. Firstly, they only serve to make the Palestinians become more entrenched in their stance of refusal. Secondly, no pressure will make me abandon the State of Israel's vital interests, of which security of the civilian population is foremost."
In other threatening news to the negotiations, Economy Minister Naftali Bennett said in response Saturday that all "the advice givers" should know that Israel will not abandon its land because of economic threats.
"We expect our friends around the world to stand beside us, against anti-Semitic boycott efforts targeting Israel, and not for them to be their amplifier," he said, in a clear barb. "Only security will bring economic stability, not a terrorist state next to Ben-Gurion Airport."
Despite all the talk, where it really counts in the Foreign Ministry, the outlook is not entirely positive.
Closely following developments in Europe, the ministry has claimed that Israeli diplomacy has limited tools to deal with commercial firms that choose to sever ties with Israeli entities.
"We cannot truly fight against the will to boycott us," said a Foreign Ministry official. Following the announcement of Danish bank Danskebank in regards to pulling out its investments in several companies, including Israeli firms, an inquiry conducted by the Israeli embassy in Copenhagen revealed that the Danish bank has no investments with any body related to Africa-Israel Investments Limited.
"There is a boycott fashion in Europe against Israel, but we're still not talking about a trend," the Foreign Ministry official noted. "In any case, the boycott is a phenomenon that is derived from the real issue, which is the construction in the settlements. As long as Israel continues to build, this phenomenon will persist and it will be difficult to prevent it without handling this political issue. There is no way to explain to the Europeans why the settlements are good, and why they should buy products produced beyond the Green Line."
Amid dealing with dangers of boycotts, the war between the Foreign Ministry and Yuval Steintz's Ministry of Intelligence and Strategic Affairs is heating up.
Steinitz demands that millions of shekels will be allocated to his office, so that he can deal with the boycott against Israel, but the Foreign Ministry rejected his plans.
"This office only intensifies the problem. They already received many millions, and nothing happened. Those who think they can fight boycott are using the wrong terminology. We know how to operate in the political arena against governments and earn achievements. Regarding the boycott, this is not the way."