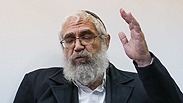 Rabbi Moti Elon
Photo: Noam Moskovich
Rabbi Moti Elon has decided not to appeal a Jerusalem Magistrate Court ruling according to which he is guilty of performing at least two indecent sexual acts on a minor.

According to the rabbi, he reached the decision not to appeal the conviction and six month community service sentence after conferring with his family which recommended he move forward and put the incident behind him.

Ynet contacted his lawyer Asher Ohayon who claimed that the rabbi's decision was solely personal, and that at a legal level the rabbi stood a very good chance at winning his appeal.

"The long legal process has exacted a heavy toll on the family and in line with their wishes it was decided to put the incident behind them and return to normal live. Rabbis who were called in on the matter accepted the family's wishes."

Related stories:

According to Ohayon, after cofnering with leading jurist, major technical issues were found in Elon's trial.

Last December a Jerusalem Magistrates' Court sentenced Rabbi Elon to six months community service after he was found guilty in August in two cases of sexual assault on a minor.

Elon was also sentenced to 15 months probation and must pay NIS 10,000 in compensation to the victim a day after new details were released about his case, revealing the rabbi's behavioral patterns and reinforcing the conviction against him.

After hearing his sentence, Elon said that he accepted the six months of community service with pleasure. "I've been doing community service for 40 years, and I would love to do until I'm 120." Elon said that he would "act with the help of God according to the Torah's approach," when asked about a possible appeal to his sentence.

While testifying, R.M, a social worker, recalled how she watched the rabbi kiss and hug a boy in his car. The case is not included in the indictment, but the testimony was found by the court to be reliable and relevant.

As deliberations over Elon's sentence began, Jerusalem District Prosecutor Sagi Ofir announced his support of a 8–18 months term of imprisonment for the convicted rabbi.

Elon's friends and family argued that he should receive community service, and not a prison sentence. They added that regardless of he sentence, the disgraced rabbi will appeal the verdict.