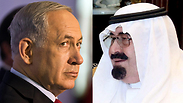 King Abdullah and Prime Minister Benjamin Netanyahu. Are ties with Israel being strengthened?
Photo: EPA, AP
A senior Saudi prince has hinted that a peace deal between Israel and the Palestinians could pave the way to a normalization of relations with the Saudi Kingdom.
Saudi Prince Turki bin Faisal Al Saud said during the security conference currently underway in Munich that Israel could be a very important "player" in the region if a deal is reached.
Related stories:
According to him, the matter needs to be pushed forward and should not wait "another 60 years."
Turki bin Faisal Al Saud reportedly praised both US Secretary of State John Kerry and chief Israeli peace negotiator and Justice Minister Tzipi Livni .
He reportedly made the comments during a panel on nuclear proliferation in the Mideast, and proceeded to slam Syrian President Bashar Assad for crimes against humanity aimed against his own people. He also slammed Iran, Hezbollah , Russia and China for their support of the Syrian regime.
"Kerry is doing a wonderful job," Turki said, adding he is worthy of praise. The senior prince who also headed the kingdom's intelligence service said that Kerry is breaking new travel records with his 49 trips to the region. He said Kerry has proven he is committed and is somewhat of an "energizer bunny."
During a panel on Saturday, Turki also praised Livni and asked her why Israel is reluctant to embrace the Saudi peace initiative. During the session, Turki also pressed Palestinian negotiator Saeb Erekat about the agreements reached with Israel during the Taba talks held before the Second Intifada. Erekat did not give a direct answer.
A few years ago, Turki was caught in a bind when then deputy-foreign minister Danny Ayalon turned to the Saudi prince, who was sitting in the audience, and beseeched him to shake his hand in front of the packed hall; an embarrassed Turki reluctantly agreed.
Turki's comments highlight growing sectarian tensions in the Mideast. Only over the weekend, Kuwaiti newspaper Al-Rai quoted a senior US State Department official as saying that the Iranian regime now views Saudi Arabia as its most serious enemy, and surprisingly not Israel or the US.
According to him, Iranian officials have told him behind closed doors that the US and Israel are not involved in Syria, thus the real problem is Saudi Arabia, and more openly, Turkey.
Turkish Foreign Minister Ahmet Davutoglu, who also spoke at the Munich security conference, warned about Syria turning into a base-country for radical terrorists, a matter which would pose a threat to the entire Middle East: "Terror and extremism are a threat to all of us.
The threat approached us as well. Who is responsible for it? (President) Bashar Assad, by making this mess on our doorstep."