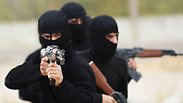 Jihadist in Syria
Photo: Reuters
Al-Qaeda has disavowed the Islamic State in Iraq and the Levant (ISIL), whose members have been locked in deadly clashes with Syrian rebels, according to a statement posted on jihadist websites.

Al-Qaeda chief Ayman al-Zawahiri had already ordered the group in May 2013 to disband and return to Iraq, and announced that another jihadist group, the Al-Nusra Front, was al-Qaeda's official branch in war-torn Syria.

The general command of al-Qaeda rammed home the point in its late Sunday statement.

"Al-Qaeda announces it is not linked to the Islamic State of Iraq and the Levant, as it was not informed of its creation... (and) did not accept it," the statement said. ISIL "is not a branch of al-Qaeda, has no links to it, and the (al-Qaeda) group is not responsible for its acts," it added.




Jihadists were initially welcomed by some rebels in Syria's conflict, but allegations of brutal abuses against civilians as well as rival opposition fighters has sparked a backlash.

Related stories:

Rebels have accused ISIL of seeking to consolidate power rather than fighting the regime, and even suggested the group was serving the regime's interests.

The tensions erupted in early January into armed clashes between Islamist and moderate rebels and ISIS.

In some cases, Al-Nusra Front participated in clashes against ISIL, though it has largely remained out of the fighting and has called for reconciliation. More than 1,400 people have been killed in the rebel-jihadist clashes.