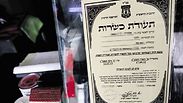 Kashrut certification
Photo: Avi Moalem
Habayit Hayehudi leader Naftali Bennett, in his capacity as Minister of Religious Services, and Ashkenazi Chief Rabbi David Lau on Monday announced a list of reforms designed to improve the kashrut services provided by local rabbinates.

The changes will aim to eliminate a conflict of interest and restore public faith in the system of declaring food kosher.

There will be three different levels of kashrut for kosher food operations, and kashrut supervisors will be employed by external companies.

The proposal is expected to reach the legislative channels in the near future, and the ministry believes the reforms will be implemented within six months. Deputy Minister of Religious Services Eli Ben-Dahan, who presented the details of the plan, said this was just the beginning of restoring public faith in religious institutions.

"The ultimate goal is to bring back the public's trust in kashrut by regularizing work relations, removing foreign interests, and upgrading the kashrut array with new and transparent technology."

Related stories:

Today, Ben-Dahan said, there are a number of flaws in the service of certifying that food is kosher. These shortcomings include the fact that certificates are only updated twice a year, business owners pay the kashrut supervisor directly, which has been the cause of conflict of interest in hiring supervisors, and that each supervisor has a different set of standards for the laws of kashrut.

The plan is to establish external companies, which will hire kashrut supervisors on behalf of the local religious councils, and then have them sent to supervise food operations on behalf of the company. Currently, each supervisor is hired by the business owner, a method that has been criticized by the High Court of Justice for fear of conflicts of interest.

Supervisors may be forced to toughen procedures or even take away a business's kosher certificate due to deficiencies that are discovered, but since supervisors receives a salary from the owner they're liable to turn a blind eye to any shortcomings. The ministry also said the new regulations would improve the social conditions of kashrut supervisors.

Another change will the addition of two extra grades to the kashrut of a business. The regular certification will remain the same, but now there will be mehuderet (stringent) and mehadrin min hamehadrin (very scrupulous).

The additional levels are expected to harm the private Badatz organizations. Those wishing in the past to upgrade their kosher status would be forced to turn to one of the private organizations. Lone local rabbinates would occasionally give mehuderet certificates, but now every rabbinate will be forced to do so.

Some aspects that differentiate between the levels of certification are the inspections done after slaughter and vegetables without any traces of insects.

Certificates will also be more dynamic. Each permit will have specific details as to which level of kashrut it has attained, including a list of raw materials, so the customers can make an educated assessment of where they believe the kashrut stands.