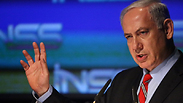 Benjamin Netanyahu
Photo: Motti Kimchi
Prime Minister Benjamin Netanyahu responded to Palestinian President Mahmoud Abbas , saying "It is absurd to think that in an agreement in which we will recognize the nation-state of the Palestinian people they will not recognize the Jewish state."
Earlier Monday, Abbas gave an interview to the New York Times in which he rejected the possibility of recognizing Israel as a Jewish state, and adumbrated the Palestinian position regarding US-brokered peace talks.
Abbas "was quoted as saying he would not be willing to accept the Jewish state and this is while he knows there will be no (peace) deal without recognition of (Israel as) the nation-state. It's absurd," Netanyahu said.
Regarding a possible economic boycott, Netanyahu said that "the same international forces pressuring Israel should be pressuring the Palestinian Authority and clarify what the ramifications of failing to reach a peace agreement would be for the Palestinians."
Netanyahu concluded that "no pressure will force us to give up Israel vital interests, primarily the safety of Israeli citizens."
Security has no price
Economy Minister Naftali Bennett commented on the threat of a potential economic boycott of Israel should peace talks fail.
"There is no price for our security and that of our children's. Not even a billion dollars will bring back a child killed by a Palestinian rocket."
Foreign Minister Avigdor Lieberman has been surprisingly quiet in recent days as the US and Israel have been verbally battling over the potential threat of a boycott on Israel should US-brokered peace talks fail.
Monday he broke his silence and warned Washington as well as leftist elements in Israel: Calm down, there is no need to be hysterical.
"For three days I have seen reports quoting a senior Foreign Ministry official claiming there is no way to stop the boycott, and that the political echelon is indecisive and afraid to cope.
I think I know who the official is, and there is a clear and concise plan on how to deal with the boycott in the Foreign Ministry. There is complete cooperation with all the relevant offices in regards to how to deal with the boycott. Within a month to a month and a half we will have clarified our approach."
History of boycotts
Lieberman was quick to note, as well, that this wasn't the first time Israel had to deal with something like this.
"There was a boycott in 1921 by the arabs and in 1945 the arab League decided to boycott all jewish business," he said. "Renault stopped dealing with Israel in 1959 because of a boycott and Arab pressure."
Lieberman also said that whoever remembers the French embargo in 1967 will also remember how Israel's military and aviation industries flourished during that period.
"The embargo had the opposite effect."
The oil embargo after the 1973 Yom Kippur War was also difficult, Lieberman said, but Israel survived.
"Only during the 1990s did we start getting Japanese cars," he said. "Other than Subaru, we didn't have any Japanese cars. And neither did we have Pepsi. We've dealt with boycotts for the length of all of our history."
Sailors take warning
Justice Minister Tzipi Livni spoke out against the criticism of Israel, in part in due to US Secretary of State John Kerry's remarks.
"Israelis or Americans who tell us to pay attention to security threats or other threats of isolation don't scare us, they're just defining the threats," she said. "If someone goes out to sea and his friend tells him there will be a storm he's not threatening him he's warning him because he's worried for him."
Livni also attacked the right, saying Kerry has only helped silence the calls for boycotts.
Abbas also said NATO troops, led by the Americans, should be responsible for the security of a future Palestinian state, he said in a New York Times interview. He also claimed that their deployment could be for an indefinite amount of time.