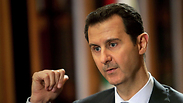 Syrian President Bashar Assad
Photo: AFP
The Syrian president uploaded a new picture to his Instagram account on Monday, wearing a tailor-made suit, carrying a luxury briefcase and his hand in his pocket nonchalantly.
Bashar Assad received tons of criticism for the picture, but what most stood out were the likes he received and the flattering comments.
"Damn, he got style," one responder commented. Another viewer called him "the most handsome president that I know," and another fan said "you're my life Bashar, may God protect you."
The majority of the negative feedback pointed out the absurdity of Assad's business as usual look to what his regime was carrying out across the country.
"When refugees aren't receiving food and clothes, the president is wearing a formal, extravagant suit," one commenter wrote.
In general, those who enter the presidential Instagram account don't get the slightest clue to what's happening in the northern Levant state. Next month will be the three-year anniversary of the violence, which has killed more than 130,000 people, including many civilians.
The talks in Geneva didn't take off, while Syrian aircraft continue to unload bombs on cities run by the opposition forces, but all is rosy in the world of Instagram.
Assad is almost always smiling, visiting with political figures or other guests. His wife, Asma, is also a key figure, talking with citizens, hugging little children and kissing babies.
Here are some more top pictures:
Despite Assad's photogenic Instagram smiles, Syria is still bleeding.
During the weekend, Assad regime air raids using explosives-packed barrels on the northern Syrian city of Aleppo killed at least 100 people. Opposition sources reported on Monday that the regime has expanded this activity to other regions in the country as well.