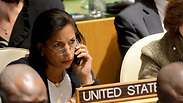 The US National Security Advisor Susan Rice has rapped Israeli officials for comments directed at Secretary of State John Kerry over the ongoing peace process with the Palestinians.
Tweeting from her own Twitter account in the early hours of Tuesday morning, Rice defended Secretary of State John Kerry in the latest row, and lashed out over "unfounded and unacceptable" attacks against him.
Kerry, who is the driving force behind the negotiations that began last summer, warned on Saturday that moves to boycott Israel could gain momentum should the peace process fail. A series of Israeli officials, including Prime Minister Benjamin Netanyahu, appeared to understand that Kerry was advocating a boycott, and responded accordingly.
Related stories
"The attempts to boycott the State of Israel are not moral or justified," Netanyahu said at a cabinet meeting Sunday. Strategic Affairs Minister Yuval Steinitz called Kerry's comments "offensive, unfair and intolerable," while Economy Minister Naftali Bennett said that Israel expects its friends "to stand beside us, against anti-Semitic boycott efforts targeting Israel, and not for them to be their amplifier."
But Rice hit back with a series of tweets that began by calling out Israeli officials who had criticized Kerry for his remarks.
Personal attacks in Israel directed at Sec Kerry totally unfounded and unacceptable.

— Susan Rice (@AmbassadorRice) February 4, 2014
She followed this up by reiterating Kerry's consistent support for Israel, and then stating that both Obama and his top diplomat are committed to the peace process.
John Kerry's record of support for Israel's security and prosperity rock solid.

— Susan Rice (@AmbassadorRice) February 4, 2014
POTUS and Sec Kerry remain committed to negotiations that can secure Israeli and Palestinian futures.

— Susan Rice (@AmbassadorRice) February 4, 2014
Her final tweet reinforced American oppostion at the highest level to the drive to boycott the Jewish state.
U.S. Govt has been clear and consistent that we reject efforts to boycott or delegitimize Israel

— Susan Rice (@AmbassadorRice) February 4, 2014
Kerry's State Department had sharp words Sunday and Monday in the wake of Netanyahu's comments at the cabinet meeting, rejecting claims that he had advocated for a boycott.

"Secretary Kerry has a proud record of over three decades of steadfast support for Israel's security and well-being, including staunch opposition to boycotts," said a statement from State Department spokeswoman Jen Psaki on Sunday. "Secretary Kerry has always expected opposition and difficult moments in the process, but he also expects all parties to accurately portray his record and statements."

On Monday, Psaki said that Kerry "has consistently been opposed to any form of boycott," stressing that any implications that Kerry is anti-Israel or anti-Semitic were "absolutely incorrect." She added that, "There is no greater advocate – or opponent, I should say, to boycotts or proponent of Israel's security and their future."

The row over Kerry's comments is not the first time that Israeli officials have drawn American ire during the current negotiations. Ynet revealed last month that Defense Minister Moshe Ya'alon had dismissed security proposals put together by Kerry as "not worth the paper they are written on", and called the secretary of state "obsessive" and "messianic" in his approach to the peace process. Ya'alon apologized in the wake of the ensuing diplomatic uproar, and Netanyahu personally intervened with senior members of the American administration.

Kerry is not the only person who has warned of a looming increase in boycotts. Israeli business and political leaders have been vocal about their concerns on this matter. Last month, a delegation of captains of industry flew to the annual international business conference in Davos to warn Netanyahu that maintaining a growing and stable economy requires Israel to make peace with Palestinians.