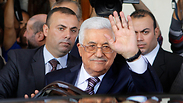 Speaking exclusively to Ynet, Jodi Rudoren of the New York Times said Tuesday that Palestinian President Mahmoud Abbas believes that Secretary of State John Kerry is serious about the peace process, but questions whether that dedication is shared by President Barack Obama.
On Monday, the New York Times published Rudoren's wide-ranging interview with the Palestinian leader, which was conducted over the weekend at his Ramallah headquarters. In the interview, Rudoren told Ynet, Abbas raised the US involvement in the peace talks, saying that the Palestinian president "feels that Secretary Kerry is very serious. I think he (Abbas) questions, as do many people on both sides, whether President Obama is fully committed and involved and engaged in the effort or whether its really Secretary Kerry's sort of solo mission."
When asked if Abbas is ready to actually sign a peace agreement with Israel, Rudoren said that his willingness to do so "has to do with the kind of agreement its going to be."
Ynet's Attila Somfalvi talks with Jodi Rudoren (Video: Avi Peretz, Ori Davidovich, Yogev Attias) (צילום: אבי פרץ, אורי דוידוביץ' ויוגב אטיאס )
Noting Kerry's influence in the process, she added that Abbas sees Kerry "is trying very hard now to balance the personalities and the circumstances and the timing and the political situations that each of them have."
Related stories:
She also said that the Palestinian president chose to avoid the subject of his assertion that he would not recognize Israel as the homeland of the Jewish nation, a position that has caused much controversy in Israel.
During the interview, Rudoren said, she pointed out that the Palestinian declaration of independence refers to UN Resolution 181, the plan to partition Palestine into two states, and asked Abbas why he refrained from constructing a plan in that spirit. In response, she said, Abbas laughed and said, "Give me 181", as "that would give him a lot more territory than they're now bargaining over right now."
Rudoren also told Ynet that Abbas believes that, "The key is Netanyahu" when it comes to the success of the talks. She said that Abbas told her "the real question is does he (Netanyahu) want peace, and… if he wants peace it will be easy." She said that she did not "get the kind of dismissiveness that you often hear from Saeb Erekat of the possibilities this will never happen."
"Abbas did not talk too much of the settlements, he did not talk about there's no hope, there's no chance. He seemed engaged, he seemed serious, but he definitely has questions," she said. Furthermore, Rudoren noted, Abbas was "very frustrated" by that fact that "Netanyahu told him he could only trust his own army."
The veteran journalist concluded by sharing her opinions on the main differences between Israel and the Palestinians regarding the peace negotiations, and which of the two leaders seems the most committed.
"Prime Minister Netanyahu is very, very focused on security and on protecting the Jewish homeland, and the Jewish people," she said. "He does believe in the process and in the two state solution," but was not as concerned with "the threat that might come if that does not happen."
Regarding Abbas, Rudoren said that he was unhappy with the current situation for the Palestinians, "he seemed very committed to avoiding any violence."
She said Abbas also "did not sound very excited about the United Nations options", a reference to his previous attempts to create a Palestinian state through international resolutions, rather than direct negotiations with Israel.