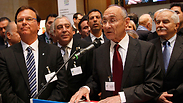 JNF World Chairman Efi Stenzler with Israeli ministers
Photo: Jewish National Fund
A conference titled "Israel Today and Tomorrow" was held in Paris on Monday, in the presence of over 15,000 French Jews, Tourism Minister Uzi Landau, Agriculture Minister Yair Shamir, and Deputy Defense Minister MK Danny Danon.

The conference was initiated by the Jewish National Fund to express support to French Jewry, following recent anti-Semitic incidents in France.

Related stories:

Security officers were preparing for anti-Semitic riots, bolstering the premises with hundreds of security officers, thereby managing to thwart protesters who arrived in the area from rioting.

The conference included professional panels, speeches by Israeli officials, and discussions.

All the speakers addressed rising anti-Semitism in France and expressed their support of the local Jewish community.

Agriculture Minister Yair Shamir said: "We've come to offer support to Jews in the Diaspora and to find strength. Nations rise and fall on the basis of their inner strength and not on the basis of outside pressure."

Chairman of the Jewish National Fund Efi Stenzler said: "Those who want to see the true face of Israel are welcome to take a look at the facts. Those who want to boycott are welcome to scream slogans from the outside."

Stenzler added: "France demands the enemies of Israel to abandon the way of terror, and acknowledges Israel's right not to make compromises on its security."

Tourism Minister Uzi Landau said: "The message of this event – if we stay united we can face anti-Semitism."