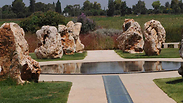 Monument for helicopter disaster's casualties
It's a long day for Raya Effner, Chairman of the Helicopter Disaster Victims Organizatoin. She has an extremely tight schedule, and despite the effort, she still can't attend all the memorials and commemoration events. "I'm on the road, going from cemetery to cemetery…there are a lot of funerals," she told Ynet Tuesday.
Raya and her family mark the memorial day of her son, Staff Sergeant Avi Effner who was killed in the crash, on the anniversary date of his death. "That's how it is in the family; we celebrate birthdays and visit the grave."
Related stories:
17 years have passed since the most severe aerial disaster that the Israeli military has ever known took place. The tragic midair collision, which claimed the lives of 73 IDF soldiers, took place after two Yasur helicopters en route to Lebanon collided in midair on February 4, 1997.
"My family and I are still in touch with Avi's friends," Raya said. "We love them very much, but it's not easy. Think of all this potential that's gone to waste, 73 soldiers. It's not just a loss for the families, it's a loss for the entire Israeli society.
In the course of 17 years, Raya noted, each person from the fallen soldiers' families learned how to deal with the pain differently. Some are more extroverted, asking to bring to awareness as much as possible of the incident and of the loved ones they lost. Others cope in a more introverted manner, battling pain that does not subside even after 17 years.
Raya recounted the night when she first learned that the disaster occurred. "I had an agreement with Avi. Every time that something happens in Lebanon, he would pick up the phone and say 'I'm fine', at any hour…on the night of the crash, I hoped to get a similar phone call from him. But the phone didn't ring."
The Defense Minsiter at the time of the disaster was Yitzhak Mordechai. The Helicopter disaster was one of the most difficult moments of his life. "We came to the area (of the crash) and heard descriptions from people who saw what had happened from the ground, who saw the collision. It was a heart-wrenching sight, the best of our sons serving in Lebanon and ending up getting injured on the land of Galilee. It's simply horrible."