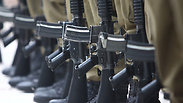 IDF soldiers at Nachman's funeral
Photo: Avi Moalem
The Gaza border friendly fire incident which claimed the life of Captain Tal Nachman raised a long line of question among security personnel and defense officials.

The investigation conducted of the affair will set out to determine if the two forces were properly briefed before the mission. As part of the briefing, the soldiers should have been given the rules of engagement.




The IDF has a special directive for engaging fire when friendly forces are in the area, and the incident's investigation will examine whether the directive was passed on to the soldiers.

The briefing and rules of engagement should include the location of the different forces, their orders, and a collection of scenarios with possible responses – including an exchange of fire. The commander of the forces is the one responsible for the briefing.

Related stories:

As such, it will be determined whether the Givati security force were deployed when they were tired and exhausted or were awake and physically and mentally fit to complete the mission.
The moment before he pulled the trigger
The forces positioned in the northern strip were in the proximity of each other, in the same operational cell. Another force of the Givati battalion was securing the intelligence APC, and was also in an APC.

During one of the patrols by Givati around the APC, a soldier noticed a figure that seemed suspicious atop the intelligence APC. It was dark, unlit, and a Givati soldier noticed a shadow that, according to his understanding, should not have been atop the intelligence APC.

The soldier was less than 20 meters away from the intelligence APC when he noticed the shadow and decided to open fire. The investigation will decide whether he fired according to the directive – did he seek his commander's attention and ask permission, or did he fire of his own volition?
What did the soldier see?
Additionally the investigation will look into what led the soldier to open fire to suspect the shadow was a terrorist. The initial investigation raised the possibility that the figure the Givati soldier saw was an intelligence soldier who went into the APC to pick up an item, and the Givati soldier noticed the suspicious shadow when the intelligence soldier reappeared topside. This will be reexamined during the final investigation.

The shooting by the Givati soldier took the life of Captain Tal Nachman, a 21 year old from Ness Ziona. Nachman, an officer, was sleeping on the topside of the APC and was wearing protective gear. He was hit in his back and succumbed to his wounds on the way to the hospital.

General Sami Turgeman, the commander of the IDF Southern Command, was involved in the investigation since the early morning hours, in an attempt to determine exactly what had transpired.