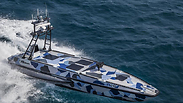 The Katana, named after the samurai sword
Photo: Israel Aerospace Industries
Israel Aerospace Industries (IAI) unveiled Tuesday its new unmanned vessel, the Katana, designed for routine security missions near the shore and at sea. "We named it after the Japanese samurai sword, because we wanted to emphasize the system's speed, reliability and lethality," the IAI said.
The Katana can be operated both as a standard autonomously-operated combat vessel, and as a craft activated from a distance from a control station with an advanced system. The craft is able to deliver a real-time view by detecting, identifying and classifying both near and far targets, and can intercept them if needed.
Watch the Katana, IAI's new unmanned vessel, in action
"The Katana is designated for homeland security missions and for missions of security of offshore installations such as oil rigs and fuel or gas pipelines. It will also be used for port security missions, will aid in closing off certain areas at sea and interception missions of ships," said Eyal Sharabani of the M.L.M. Israel Aerospace Industries factory.
Related stories:
The Katana, sized 12 meters (39 feet) long and 2.80 meters (9 feet) wide, is able to reach a speed of 60 knots, over 110 kilometers (68 miles) per hour.
And, says Shaharbani, "is equipped with many optical systems, weapon systems and advanced communication systems – both wired communication and satellite communication – and with command systems and navigation systems."
Shaharbani said that the Katana developers had placed a special emphasis on reliability, making it unsinkable. "It has two powerful motors and it never sinks. There is no chance of any mishap happening that will stop an unmanned vessel on its mission.
"The Katana includes electro-optical systems that allows whoever operating it from a distant station have the possibility of seeing the entire marine environment and focusing on a specific target. In terms of satellite communication, the Katana can be operated from Tel Baruch beach when the boat is at the Pacific Ocean."
At this stage the Katana is not part of the IDF's operational fleet, but the Israel Navy is already making use of unmanned watercrafts. One such vessel is "The Protector", employed in routine security measures off the Gaza coast in recent years. The IDF said in May 2013 that the navy will use the newest version of the craft, which allows, among other things, to reach more distant destinations.