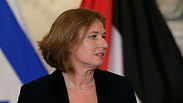 Justice Minister Tzipi Livni, Israel's chief negotiator in peace talks with the Palestinians, has rebuked her fellow ministers for comments criticizing US Secretary of State John Kerry's efforts to reach an agreement between the two sides.
Livni told Israel Radio on Wednesday that some members of the governing coalition were opposed to any kind of peace agreement, and that the recent verbal attacks on Kerry were "shocking."
Kerry's State Department has twice this week issued statements clarifying his position on a boycott of Israel, after leading politicians, including Prime Minister Benjamin Netanyahu, appeared to misunderstand a warning from Kerry on Saturday about the growing drive to sanction the Jewish state over the settlements.
US National Security Advisor Susan Rice also weighed in on the issue, accusing Israeli officials of making "unfounded and unacceptable" attacks on Kerry.
Related stories:
Livni's comments point to a widening divide in the center-right coalition, which has some members backing a peace deal while others seek to prevent one based on Kerry's outlines.
The secretary of state is soon expected to present a framework that would define the outlines of a final deal.
Economy Minister Naftali Bennett, whose Habayit Hayehudi party supports settlements, threatened this week to bolt the coalition if his party deemed Kerry's proposal unacceptable.
Other ministers have also criticized Kerry's approach.
Ynet revealed last month that Defense Minister Moshe Ya'alon had dismissed security proposals put together by Kerry as "not worth the paper they are written on", and called the secretary of state "obsessive" and "messianic" in his approach to the peace process.
Ya'alon apologized in the wake of the ensuing diplomatic uproar, and Netanyahu personally intervened with senior members of the American administration.