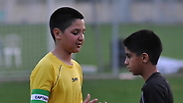 Young captains
Photo: Adi Peretz
Children from the northern Israeli Jewish and Arab towns of Kiryat Shmona, Hatzor Haglilit, Tuba-Zangariyye, Safed and Rehaniya gathered last week at the Kiryat Shmona municipal stadium for a special soccer tournament as part of The Equalizer project.

The project, which aims to create a better society based on values of tolerance and mutual respect, focusing on education, studying and love of sports, was sponsored by the British Embassy in Israel.

Soccer for All

Stars from Under-21 football teams join together to encourage 'Football for All' campaign, declare their support to kick racism and violence out of sport

As part of the project, soccer teams established in the participating schools meet four times a week. The children get two training sessions a week from a certified coach, and meet in study centers where they receive help preparing their homework and studying for exams.

All the teams from the region's communities participate in a tournament once a month.

Last week's even was attended by Kiryat Shmona Mayor Nissim Malka and Safed Mayor Ilan Shohat, as well as the players of the Ironi Kiryat Shmona Football Club, who made the children very happy.

"The best players come out of the more remote places, and I have seen some really good players here," said forward Barak Badash. "This is a very positive project, which advances values of sharing and tolerance and brings different populations together."

Israeli Arab journalist Zoher Bahalul said during the event, "Only in sports and soccer there is no difference between people.

"And why is there no difference? Because in the locker room everyone takes off their regular clothes and puts on sports clothes, wears the same color, the same pants, and puts on the same shoes, and that's why sports bridges between all people – between a black person, a white person, a Jew or an Arab."