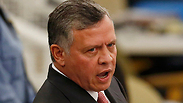 King Abdullah
Photo: Reuters
Israelis and Palestinians may be hugely skeptical about the US-led peace negotiations their leaders have been roped into, but the Jordanians seem worried that they actually might succeed. The kingdom is already home to the largest Palestinian population outside the West Bank and Gaza Strip, and Jordanian lawmakers and others fear an accord might lead to a new influx of refugees.

The kingdom, a key US ally, is watching warily as Secretary of State John Kerry brokers the secretive talks. Protests have broken out, the media brims with disaster scenarios, and lawmakers have held anguished debate.

"Jordan stands today at a dangerous crossroad because it will be a victim of an Israeli-Palestinian peace deal," warned tribal lawmaker Abdul-Karim Dughmi. "I do not trust Mr. Kerry because his country is biased toward the Zionists and their expansionist plans to usurp the remaining Palestinian lands in the West Bank and force more Palestinian refugees onto Jordan."



He spoke during the second day of a heated debate on the issue under the domed parliament chamber in the capital, Amman.

Related stories:

At the heart of the matter is the brittle situation in Jordan itself – a monarchy that managed largely to escape the Arab Spring convulsions that have enveloped much of the region, and yet is vulnerable because of a combustible ethnic schism only complicated by the recent years' arrival of more than a half million refugees from Syria due to that country's ruinous civil war. Another half million Iraqis also live in Jordan since dictator Saddam Hussein was toppled in 2003.

According to estimates about half of Jordan's 7.5 million people are Palestinians. They, or their ancestors, arrived in two waves. The first was in 1948-49, as a consequence of the war from which neighboring Israel emerged, and the second was in 1967, after the war in which Israel seized the area west of the Jordan River that had been controlled by Jordan – now known universally as the "West Bank," the heartland of a would-be Palestinian state.

Despite the huge Palestinian population – some believe they are a majority – many key posts and the most plum jobs are still held by so-called East Bankers, a term referring to Bedouin tribesmen who dominate the government and other non-Palestinian Jordanians. Many Palestinians still live in ramshackle camps and feel like second-class citizens. They are banned from posts in the foreign ministry, army, intelligence and other security departments. They are also excluded from royal perks frequently extended to those of Bedouin origin, such as university scholarships and free health care.

There is no indication that Jordan will be asked to absorb Palestinian refugees from Lebanon, Syria and elsewhere. The Palestinians' longstanding demand has been that they be allowed into Israel, and Israel prefers they be given a choice to move to the new Palestinian state.

But the East Bankers are nervous. Beyond the refugee issue, if the Palestinians' situation was addressed convincingly, as part of a wider accord in which many Arab countries make peace with Israel, the delicate balance in Jordan could easily be upset.

Political analyst Labib Kamhawi said that non-Palestinian East Bank Jordanians "are afraid to lose their longstanding monopoly on power and be forced to share it with Palestinian refugees who may decide not to return to the West Bank under a final peace deal."

The original idea was to reach a deal by April, but there are now indications the talks may be prolonged, perhaps with the added element of an American position paper presented to the sides.

Amid the fervor, King Abdullah II – who hosted key players Israeli Prime Minister Benjamin Netanyahu, Palestinian President Mahmoud Abbas and Kerry recently – planned to discuss the effort during a US trip that began Tuesday and will include a stop in California on February 14 for talks with President Barack Obama.

A government official said Abdullah will "remind" the Obama administration about Jordan's interests in a final Mideast settlement. He said Kerry was in constant touch with his Jordanian counterpart, Nasser Judeh, speaking several times a week. The official insisted on anonymity because he is not authorized to speak publicly.

His comment was echoed by an Obama administration official, who said in Washington that Jordan's king and Judeh "have been intertwined in every aspect of this process." The official insisted on anonymity because he is not authorized to speak by name.

Seeking to allay parliamentary fears, Judeh told lawmakers that Jordan, which shares the longest Arab border of 335 kilometers (210 miles) with Israel and the West Bank, had the right to "accept or reject" any point in the negotiations that does not bode well with its interests.

Prime Minister Abdullah Ensour assured deputies that "I'm keeping no secrets on the negotiations from you."

He announced that Jordan will not deploy troops on the West Bank in the Jordan Valley to replace Israeli forces there.

The Palestinians seek the West Bank, east Jerusalem and the Gaza Strip, territories captured by Israel in 1967, for an independent state. Israel's current government wants to keep parts of the West Bank and says it will not share control of east Jerusalem, home to sensitive religious sites – although previous Israeli leaderships were more flexible on the issue. Netanyahu has also insisted that the Palestinians recognize Israel as the Jewish homeland, a condition they say would undermine the rights of Palestinian refugees and Israel's own Arab minority.

Speculation that Kerry was close to laying out the framework of a future peace deal rekindled Jordanian concerns.

About 150 protesters, a mix of Arab nationalists and Islamists, rallied in the northern city of Irbid Monday, appealing to the Palestinians to reject a peace deal and demanding their government to annul its 1994 peace treaty with Israel.

One of the protesters, Yahya Shdeifat, called for "conscripting fighters for cross border attacks on Israel."

The stakes are high for Jordan, which worries about instability on its Western border and the fate of more than 2 million Palestinian refugees and their descendants who were displaced to Jordan in the 1967 Arab-Israeli war, most of whom hold Jordanian citizenship. Jordan insists they must be compensated and allowed to return to the West Bank.

The government wants a smaller group of Palestinians displaced in the 1948 Mideast war to be compensated for losing their homes with Israel's creation months after the war.

The government also is expected to seek financial compensation for hosting the Palestinians. Officials estimate that Jordan spends around $1 billion annually for the upkeep of 13 Palestinian refugee camps across the country.

In addition, Jordan's king, whose royal Hashemite dynasty claims ancestry to the Prophet Muhammad, wants a future deal to satisfy Arab claims to east Jerusalem, which houses Islam's third holiest shrine. The Jordanian-Israeli peace treaty recognized a "special" Jordanian role in caring for Christian and Muslim holy shrines in the Old City.

In Tuesday's session, some lawmakers voiced concern that worsening conditions for West Bank Palestinians under Israeli occupation may force them out to seek better opportunities in Jordan, giving ammunition to Israeli hard-liners, who call for making Jordan, not the West Bank, a home to Palestinians. Others said they feared that Palestinian refugees in Syria and Lebanon would end up in Jordan, disturbing its delicate demographic balance.

Abdul-Hadi Majali, a tribal leader who heads the largest parliamentary bloc of 20 seats, argued that Kerry was intentionally keeping the negotiations secret.

"Mr. Kerry, the Godfather of peace, wants to use the surprise factor to impose an Israeli solution on the Arabs, keeping east Jerusalem under Israeli occupation and vacating the remaining part of the West Bank of its Palestinian inhabitants."