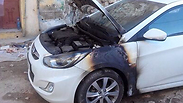 Yehuda Landsberg, Benjamin Richter and Yehuda Savir – three residents of the Havat Gilad settlement outpost – were charged Wednesday with planning and executing price tag operations in the Samarian Palestinian village of Far'ata.

According to the indictment, the three arrived three months ago at the Palestinian village, set two Palestinian-owned vehicles on fire and sprayed Stars of David on nearby walls. Substantial damage was caused to the two cars that were torched.

"The forbidden actions of the group members were performed due to nationalistic motives and out of hostility towards the Arab public," the indictment reads.

Related stories:

The three, aged 22-25, were defined by the Shin Bet as radical right-wing activists, and two of them were previously affiliated with other violent acts.

Landsberg, according to the Shit Bet statement, was involved in illegal and violent activities against Palestinians and their property, was arrested several times by the police and interrogated on suspicion of carrying out severely violent activities due to nationalistic motives, but was never prosecuted.

Richter was involved in severe violent acts against Palestinians and their property, and was also interrogated by the police. In 2013, he was accused of attacking two Palestinians and his freedom of movement was restricted. The current indictment also claims he had violated his freedom of movement restrictions.

The Shin Bet investigation revealed additional information regarding the illegal and violent activities by the three in the Palestinian village. "If the truth had been revealed on time, it would have brought on a violent escalation," the incitement reads.

"Price tag activities can undermine the public and region's safety," the statement reads. "This affair shows the potential threat behind a small group of extremist activists, who use violent methods in order to fulfill their ideological desires, even at challenging government decisions and spreading terror within the Palestinian community. All this while causing severe damage to the State's image in the international arena."