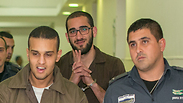 Suspects at the court house
Photo: Ohad Zwigenberg
Four East Jerusalemites aged 19 to 21 were indicted with planning to carry out a shooting attack in a functions hall in the Jewish neighborhood of Bayit VeGan in Jerusalem.

The four, residents of Jabel Mukaber, who were accused of offenses of conspiring to assist an enemy of war, chose this target since one of the attempted assailants used to work there.

According to the indictment, two of the defendants decided to carry out a terrorist attack against Israeli citizens in Jerusalem due to nationalistic motive and in order to aid terrorist Palestinian organizations in their battle against the State of Israel.

Related stories:

The two decided to carry out the attack in a Jerusalem functions hall in order to murder as many Jews as possible.

One of the defendants allegedly suggested the specific Bayit VeGan hall, where he had previously worked in the past. He proposed the location because he knew that the hall hosts between 800 and 1,500 guests in every event.

Two of the defendants planned to enter the hall through the main entrance dressed as haredim, along with the other guests.