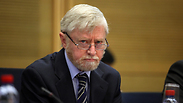 State Comptroller Shapira
Photo: Gil Yochanan
Israel did not properly document Jewish property in the Arab states from which they were forced to flee, wrote State Comptroller ret. Judge Yosef Shapira on Wednesday afternoon.

Compensations for Jewish refugees was included in the framework agreement presented by the Americans to Israelis and Palestinians, which will grant indemnifications to those who were forced to flee their homes and property without being able to recoup their losses.

According to the opinion by the state comptroller, many Israelis will find it difficult to receive the compensation because – despite numerous, conflicting government decisions to document and evaluate the massive amounts of property left behind – the issue was not handled properly over the years.




The figures presented by the state comptroller show that in 1948 more than one million Jews lived in Arab lands and in Iran, and the value of their property stood at billions of dollars.

Related stories:

About two-thirds of these Jews came to Israel, and in 1969 the Israeli government decided that the Justice Ministry will begin investigating and collecting legal documentation regarding the financial and physical harm directed at Jews who left Iraq, Syria, Egypt, and Yemen. In March of 2002, the government widened the scope of the investigation to include all Arab states and Iran.

Between 2003 and 2007, the government approved a number of decisions on the matter of collecting the data on private and communal Jewish property in the aforementioned states, but from 1969 to 2009 only 14,000 claim forms were filled out in full.

As such, the government collected information that would explain the circumstances of the affected Jewish communities, the legislation which discriminated against them, the confiscation of their property, and the harassment the community members faced. In October 2009 the case was transferred to the Pensioners' Affairs Ministry.