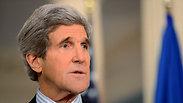 WASHINGTON – "Kerry has a tough skin and he's been through a lot more difficult circumstances than having personal verbal attacks thrown at him". The American government continues to fend off the direct attack made by cabinet minister towards US Secretary of State John Kerry.

US State Department's spokeswoman Jen Psaki said Wednesday evening that "the (Israeli ministers') words aren't an attack on (Kerry); they're actually an attack on the peace process itself."

Against the backdrop of recent turmoil following the criticism in Jerusalem about Kerry's remarks that Israel's security is "illusionary" and a boycott against it is around the corner, the State Department's spokeswoman said that "Kerry is not going to spend a lot of time worrying about words people are using against him. His greatest concern about the impact they have or they could have on the (peace) process… I think his view is that some of this is a sign that the heat is on and we're getting down to the difficult issues."

Psaki further said about the harsh criticism slammed towards Kerry that "these kind of attacks are unacceptable and they not only distort his record but they distract from the real issues at hand… there is criticism from both sides, that sometimes it's a sign that you're doing things right... This process is not about Secretary John Kerry; this process is about the future for the Israeli and the Palestinian people."

Related stories:

Meanwhile, Psaki denied reports of a framework agreement in the works between Israel and the Palestinians. According to her, "nobody knows what is in the framework (agreement); there is not a final framework."

She also addressed the reports of an additional plan to build in East Jerusalem and said that the US opposes any unilateral action.
Criticism 'unfounded and unacceptable'
US National Security Adviser Susan Rice also weighed in on the issue, accusing Israeli officials of making "unfounded and unacceptable" attacks on Kerry. In a series of tweets, Rice wrote that "Personal attacks in Israel directed at Sec Kerry totally unfounded and unacceptable. John Kerry's record of support for Israel's security and prosperity rock solid. POTUS and Sec Kerry remain committed to negotiations that can secure Israeli and Palestinian futures. US Govt has been clear and consistent that we reject efforts to boycott or delegitimize Israel."

After Kerry's remarks were published last week, Prime Minister Benjamin Netanyahu said at the start of his weekly government meeting Sunday that "the attempts to boycott the State of Israel are not moral or justified. Moreover, they will not achieve their purpose."

Netanyahu noted that the threats of boycott made by the US state secretary "serve to make the Palestinians become more entrenched in their stance of refusal. No pressure will make me abandon the State of Israel's vital interests, of which security of the civilian population is foremost."

Minister of Strategic Affairs Yuval Steinitz also criticized Kerry's comments on Sunday, saying the American politician's words were "offensive, unfair and intolerable. You can't force the State of Israel to negotiate with a gun to our heads while we are discussing the most critical of our national security interests."