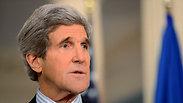 Kerry to critics: I am not going to be intimidated
Photo: EPA
US Secretary of State John Kerry on Wednesday brushed off Israeli criticism of his Middle East peace efforts, saying he has been "attacked" with bullets in the past and would not be intimidated by words.

Kerry also hinted criticism at elements which he claim did not want a two-state and wished to secure unchecked expansion on settlement construction, a possible reference to Defense Minister Moshe Ya'alon or Economy Minister Naftali Bennett, both known for their pro-settler positions.

Speaking to CNN's Jake Tapper, Kerry appeared to allude to his military service during the Vietnam War as he played down the criticism.

"I've been, quote, 'attacked' before by people using real bullets, not words. And I am not going to be intimidated," Kerry told CNN according to a transcript released by the broadcaster.

Related stories:

In explaining the attacks on him, Kerry said "There are specifically some people who don't support two states. There are some people who don't want any restraint on settlements whatsoever.

"What's important is to look at the positive side of this, which is the majority of the people in Israel, the majority of the Palestinians, the majority of the people in the region, believe in peace and want peace and believe peace will strengthen everybody… Israel needs to understand - we will always stand by its security needs."

Kerry claimed he was being misrepresented by media, which he insinuated was putting words in his mouth regarding a boycott: "My comments need to be properly represented, not distorted," he said. "I did not do anything except cite what other people are talking about as a problem."

"But I also have always opposed boycotts. I have 100 percent voting record in support of Israel for 29 years in the United States Senate. Unfortunately, there are some people in Israel and in Palestine and in the Arab World and around the world that don't support the peace process," Kerry added.

"I'm going to serve the country in the extraordinarily privileged position the president has given me, the great challenges that I have, and move on," he said.

Regarding a nuclear Iran and an interim agreement reached between the Islamic Republic and the world powers, Kerry said "I can absolutely sit here and look you in the eye and I've looked Prime Minister Netanyahu in the eye and said, 'I believe Israel and the region are safer today than they were before we made this agreement.'"
'Messianic' and obsessive
On Sunday, Minister of Strategic Affairs Yuval Steinitz accused Kerry of holding a gun to Israel's head by speaking of "an increasing de-legitimization" campaign against Israel. In January, Israel's defense minister was quoted scorning his quest for Israeli-Palestinian peace as "messianic" and obsessive.

A parody video, reported by Israeli media to be the work of a pro-settler group, ridicules Kerry and shows an actor portraying him describing Jerusalem as "holy to all religions: Jews, Christians, Muslims, Buddhists, Klingons and Hobbits."

State Department spokeswoman Jen Psaki said criticism of Kerry was aimed at the possibility of a peace agreement, the outlines of which the United States hopes to achieve by April.

"The words aren't an attack on him. They're actually an attack on the peace process itself," she said. "His view is that some of this is a sign that the heat is on and we're getting down to the difficult issues."

The Associated Press contributed to this report