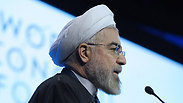 Iranian President Hassan Rouhani
Photo: AFP
Iranian President Hassan Rouhani appeared on state television to talk about a landmark deal made with six world powers aimed at curbing the Iranian nuclear program on Wednesday (February 5).

He was speaking in an interview with the state television station Islamic Republic of Iran Broadcasting (IRIB). "This move (the nuclear deal) has caused much anger among our enemies," Rouhani said.

"You can see that the radicals in America are saying something new every day. The Zionist regime is very angry and our dear people witness how upset they are with this agreement. I want to state that this is the first success of the great nation of Iran in cooperating with the world," Rouhani added, referencing US legislators bent on imposing new sanctions on the Islamic Republic, as well as Israeli objection to the interim agreement reached in Geneva.

Asked why he thought Iran was being portrayed as a threat in the west, Rouhani replied that the country's 'enemies' wanted what he called 'Iranophobia' to spread across the world.

"We wanted to stamp out this Iranophobia conspiracy, to tell the world that this is a lie. Iran is not a threat to anyone. Iran's activities are completely peaceful and its doors are open to international supervision based on law and within the frameworks of law. In my opinion, before dealing a blow to the sanctions, we must first deal with the Iranophobia conspiracy," he said.

Asked about the apparent lack of response by Iran to what he called a 'tale of lies' by American officials, he said the government did not feel the need to justify themselves to the Iranian people.

"We have no need for interviews. Our people understand completely," he said.

Aimed at easing a long festering stand-off, the interim pact was made between Iran and the five permanent members of the UN Security Council (the United States, France, Britain, China and Russia) plus Germany.

The deal was reached in November in Geneva, designed to persuade Iran to curb parts of its nuclear work, in return for an an estimated $7 billion in sanctions relief. Easing of sanctions began in late January.

"Good relations with neighbors is one of our main principles: it is an important priority for us. Of course, all the countries in the region are among our foreign policy priorities as well as relations with other world powers.

"Regarding the issue of the joint action plan or what is known as the Geneva agreement, our people witnessed that in the first step we were able to reach an agreement with the great powers while keeping the dignity and preserving the rights of our nation. Today we are seeing that many of these oppressive chains that were unrightfully bound on the economic movements of our society, are being torn apart," he said.

However, members of the US Congress have argued that it was unwise to ease sanctions before Iran took aggressive action to rein in its nuclear program, which the United States, Israel and others suspect may be aimed at building bombs. Iran has denied this.

US lawmakers have some influence over Iran policy because of their ability to pass legislation imposing fresh sanctions on Iran, something US President Barack Obama has opposed during the current negotiations and threatened to veto.

Hard-line clerics close to Iranian Supreme Leader Ali Khamenei, Revolutionary Guards commanders and the intelligence services have attacked the temporary concessions Rouhani has made, although Khamenei has so far backed the president.

Rouhani, whose election led to a thaw in ties with the West after years of confrontation and hostile rhetoric, has promised to pursue a consistent foreign policy of "prudence and moderation" to revive the economy.