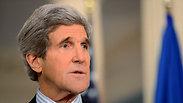 Trying humor over hectoring, Israeli ultra-nationalists have lampooned US Secretary of State John Kerry in a video campaign against his troubled quest for peace between the Jewish state and the Palestinians.

The two-minute-long YouTube clip features an actor playing a buffoonish Kerry as he tours the West Bank and East Jerusalem.

The spoof followed harder criticism of the top US diplomat from within Israeli Prime Minister Benjamin Netanyahu's rightist government. One minister was quoted as calling Kerry "messianic" while another said he was expecting the Jewish state to negotiate with a gun to its head.

Speaking against the backdrop of Jerusalem shrines, the mock-Kerry extols the city as "holy to all religions: Jews, Christians, Muslims, Buddhists, Klingons and Hobbits".

In the Jordan Valley – the proposed eastern border of the future Palestinian state –"Kerry" offers assurances by suggesting armed infiltrators can be photographed and shamed on social media.

Some 500,000 Israelis live in the West Bank and East Jerusalem, under military guard, among 2.4 million Palestinians.

Most world powers deem the settlements to be illegal, but the United States has opted for softer rubric, questioning the settlements' "legitimacy", and in the past has voiced support for its Middle East ally keeping some settlements under a peace deal.

But many Israeli nationalists oppose any pullbacks, citing the 2005 withdrawal of settlers from the Gaza Strip – another Palestinian territory that is now under the rule of hostile Hamas Islamists – as a lesson.

Palestinian President Mahmoud Abbas , who holds sway in limited self-rule Palestinian areas of the West Bank, has also had misgivings about some of Kerry's ideas. But Abbas has remonstrated more quietly.

"All Kerry and (US President Barack) Obama have done in the Middle East has failed," said Yigal Dilmoni, deputy head of the settler council Yesha, which co-sponsored the parody video.

"We do not want to be Kerry's next failure and we certainly do not want Jews to be banished because of him from Judea and Samaria, cradle of the Jewish people," he said, referring to the West Bank by its biblical name.

Speaking on CNN on Wednesday, Kerry was asked about the mounting criticism of him among Israeli officials and regular citizens. He brushed it off.

"I've been, quote, 'attacked' before by people using real bullets, not words, and I am not going to be intimidated," Kerry said, alluding to his service in the Vietnam War.

But some in Israel are campaigning for Kerry to succeed.

Breaking the Impasse, a group formed by Israeli businessmen, put a triumphant-looking Netanyahu at the center of billboard posters and newspaper ads calling on him to end the decades-old conflict with the Palestinians. "Only you can do it Bibi!" say the ads, using Netanyahu's nickname.