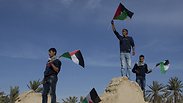 Palestinian protest in Jordan Valley
Photo: AFP
The Red Cross said Thursday it has suspended provision of tents to displaced Palestinians in the Jordan Valley, in a rare protest over Israeli "confiscation" of aid material.
On Wednesday, it was reported that the International Committe of the Red Cross has stopped providing tents for Palestinian residents in the Jordan Valley whose houses were demolished by the IDF.
"We're suspending the distribution of tents and shelter materials because we have seen a pattern of obstacles and confiscations since the beginning of 2013," said Jon Martin Larsen, a spokesperson for the International Committee of the Red Cross (ICRC).
Until now, the aid group had been distributing tents to Palestinians left homeless by Israel's ongoing policy of house demolitions. The Jordan Valley, which runs down the eastern flank of the West Bank, has been particularly affected.
Related stories:
Last month, Israeli authorities demolished 27 homes in the Jordan Valley, leaving 147 people homeless, including 63 minors, Israel rights group B'Tselem said.
Throughout 2013, a total of 124 residences were razed in the area, leaving 339 people homeless, 170 of them minors, the group said.
Figures provided by the UN humanitarian agency OCHA show that the total number of structures destroyed in 2013, which includes non-residential buildings, stood at 390, up from 279 a year earlier.
Larsen said the move only affects shelter assistance in the Jordan Valley and not the distribution of other aid.
"We'll continue to distribute aid to people after house demolitions, including hygiene kits, kitchen sets and mattresses," he said.
As an example of the frequency of the problem, Larsen said that in 16 recent missions to help the displaced, the authorities had been involved six times in the "destruction or prevention" of aid distribution, affecting 200 people.
Israel regularly issues demolition orders for fragile tin houses inhabited by the Bedouin living in the Jordan Valley, saying the structures are built illegally.
But Palestinians claim it is part of a plan to drive out the residents so Israel can annex the land.
In September, Israeli troops manhandled a group of European diplomats as they tried to hand out tents to Bedouins whose West Bank homes had been destroyed by the army.
This is thought to be the first time the Red Cross has suspended tent distribution in the area.