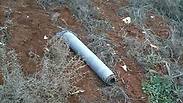 Two rockets launched from the Gaza Strip exploded in the Eshkol Regional Council and near the city of Ashkelon on Thursday. No injuries or damage were reported in either incident.
At approximately 11 pm, it was reported that a rocket hit in the Eshkol Regional Council.
Color red alert in Ashkelon ( )
Earlier Thursday, at approximately 8:30 pm, a red alert siren sounded in the Ashkelon region, followed by a hit in an open area. The rocket was the second one to hit Ashkelon area on Thursday, as a rocket hit near the Gaza Strip border fence at approximately 2:00 pm.
Related stories:
Despite assurances by Hamas that it will operate with determination to prevent rocket launches on Israel by the various Palestinian factions in the Gaza Strip, Israel has yet to feel any relief.
In the last week, rockets have fallen on open areas in the Negev, Eilat, and in the coastal council of Ashkelon. Islamic Jihad had taken responsibility for the launches on Eilat, and – according to reports by Palestinian sources in the Strip – Hamas had called in all factions involved in terror activities to clarify its wishes for showing restraint in an attempt to maintain the relative calm.
At a security conference on January 29, Military Intelligence Chief Brigadier General Aviv Kochavi said that despite a drop in the number of missiles and rockets threatening Israel, their level of precision has drastically risen.
"Some 170,000 rockets and missiles are threatening the State of Israel from all regions. Up until recently, the number was much greater and it has decreased, but it will go up again.
"They are much more precise and a lot more lethal. The most significant thing we would like to point out is the fact that the enemy has the capability to land mass amounts of arms on Israeli cities," he said.