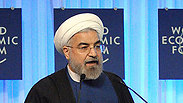 VIDEO - Iranian President Hassan Rouhani donated $170,000 to the only Jewish hospital in the country, according to a Thursday report by state-run news agency IRNA.

Last year, Rouhani donated a similar amount to Dr. Sapir Hospital and Charity Center in Tehran, which was founded in 1942. Estimates place the number of Jews in Tehran at around 25,000 – the largest Jewish community in the region outside of Israel.

Video courtesy of jn1.tv

The current donation is considered to be an attempt by Rouhani to sharpen the focus on minorities in Iran.

Deep Doubts

Many of Iranian Jews living in Israel support PM Netanyahu's description of Iran's new president as 'wolf in sheep's clothing.' Yet even those critical of regime miss many things about their homeland

In 2006, the BBC reported that Mahmoud Ahmadinejad, Rouhani's predecessor in the role, transferred funding to the Jewish hospital. The report said that despite the offenses inflicted by Ahmadinejad to Jews across the world, his office donated money to a Jewish hospital. According to the report, most of the patients and employees of the hospital are Muslim.

As the nuclear talks in Geneva were beginning in November, dozens of Jews protested in front of the UN building in Tehran. "We identify with the position of the Islamic republic," explained the Jews. A sign written in Hebrew said: "Khamenei's sentence forbidding the production of nuclear weapons makes us proud."

During the demonstration, the Iranian Jews prayed in Hebrew. Among the participants were a Jewish parliamentary member, several Jewish women and students.