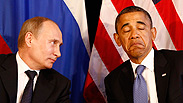 Putin, Obama in 2012
Photo: Reuters
WASHINGTON – Ahead of the Olympic Games in Sochi, and as much debate rises from the fierce protests in the Ukraine, US President Barack Obama attempts to reach out to his Russian counterpart.

The American president denied in an interview with NBC that there is an icy relationship between him and Russian President Vladimir Putin, saying that "he just wants to look like the tough guy."

In the NBC interview, to be aired on Friday, Obama voiced exceptional remarks regarding his ties with the Russian leader. According to him, in the meetings between them "there's a surprising amount of humor, and a lot of give and take."

Related stories:

Obama further noted that Putin has "a public style where he likes to sit back and look a little bored during the course of joint interviews. I think that's where some of these perceptions (of icy relationship) come up."

However, the American president stressed that it is all part of Putin's efforts to be viewed as a hardball negotiator: "Part of his shtick back home politically (is) wanting to look like the tough guy." These candid remarks took several American commentators by surprise, and senior White House correspondent Mark Knoller even commented on the matter on Twitter and wrote: "First time a US president has spoken publicly about a foreign leader's 'shtick.'"

Yet this is not the first time Obama has presented the Russian leader creatively. At a press release discussing the crisis in the relationship with Russia in August, the president joked and claimed that "he's got that kind of slouch, looking like the bored kid in the back of the classroom." He took another jab at Putin, saying "one of the things I'm really looking forward to is maybe some gay and lesbian athletes bringing home the gold or silver or bronze, which I think would go a long way in rejecting the kind of attitudes that we're seeing there."

However, even back in August, Obama reiterated that he does not have a bad relationship with Putin, and that the talks between the two are often constructive.

Obama also addressed the current Sochi Olympic Games in his NBC interview, and said that the US and Russia are "in constant communication" to ensure the games' safety: "I think the Russians have an enormous stake, obviously, in preventing any kind of terrorist act or violence at these venues. They have put a lot of resources into it."

Obama added that Putin acknowledges the importance of cooperation on matters with mutual concern for both countries.

However, he insisted that the US is not satisfied with the issue of human rights in Russia and the country's treatment towards homosexuals. For this reason, Obama avoided going himself, or sending out his deputy or wife to the opening and closing ceremonies of the Olympic Games. Instead, he sent a delegation that includes, among others, former athletes who are openly homosexual.