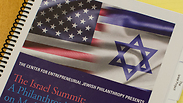 World of American donations to the Jewish State revolutionized
New generation of US philanthropists continues to donate some $2 billion a year to Israel, but they are no longer willing to sign a check and leave it at that. How does raising big funds work? Where does the money go? And how does the issue of the settlements affect donations?
Billionaire Charles Bronfman, one of the biggest benefactors of the Jewish people and Israel, has announced on the website of his philanthropic fund ACBP that he is terminating his charity activity in the year 2016.

Bronfman makes donations to the Hebrew University, Tel Aviv University, and the Israel Museum, endorses activities to promote Israeli-Palestinian ties, was one of the founders of Birthright, as well as many other ventures.

But the man with the big heart and deep pockets is 82 years of age. He concludes a chapter in his life and the lives of philanthropists – "the kings of Israel", if you will – who have reached an age that requires sealing books and passing control to the next generation. So what is happening in the arena in which billionaires drive much of the Zionist-social activities? The money is still there, green turns blue-and-white, but the shades are a little different.

Jeff Solomon, president of the Andrea and Charles Bronfman Philanthropies, told Ynet that it is a natural process: "Bronfman's children have philanthropic foundations of their own and the family will continue to make donations." According to Solomon, "there is a new generation of philanthropists. Who would have imagined a generation ago that there would be more than 700 organizations that bring Israel two billion dollars every year?" he added.
No existential threat
Jewish philanthropy was sparked in the beginning of the 20th century, with massive emigration from Russia and Eastern Europe. Frightened people arrived in the US in search of security and maintaining their identity within the community, but dreamed of being American in every way. It began with personal donations to the needy and was institutionalized in organizations that raised funds from the public.

The institutional fundraising for Israel peaked during the Yom Kippur War. Today, New York donors alone transfer $150 million to the federation, as they did in 1973, only the money's value has decreased by some 50%.

While Israel was in a state of siege, attacked by wars, or while absorbing massive waves of aliya – from Russia and Ethiopia –fundraising was at its peak. Nowadays there is no longer a sense of immediate extinction lurking the Jewish State at all times. An operation in Gaza is not an existential threat and does not require the recruitment of the Jewish people. At most, several millions are collected, which is relatively little money, and the money heads down to Sdreot.

America has seen a change. "Three generations have gone by and everything our parents had dreamed of came true," a Jewish American leader said. "We became a part of the American society and that is what threatens to destroy us as a Jewish people. The Jewish organizations still have power, but the world has changed. Today, two entrepreneurs can raise funds online that once were raised from an entire community."
Product testing
As the era oh philanthropists such as Bronfman comes to an end, a new generation of donors has come about, that unlike their predecessors, they do not define themselves as Jewish benefactors. They make donations to Jewish and Israeli causes, but mostly to other causes. The Jewish Federation of Chicago raises $80 million a year, but only one Michael Bloomberg, for example, donates $200 million (and only a small portion of it to Jewish and Israeli causes).

Solomon, the president of ACBP, and the social researcher Gary Tobin examined the activity of philanthropists who donated more than $10 million a year and found that only 6% of the funds go to Jewish causes.

"There are figures that change the Jewish discourse," said Joseph Hyman, who has been serving in senior positions in the world of Jewish philanthropy for the past two decades. "Not only is the second generation of donors who focused on the Jewish world and Israel vanishing, but the third generation turns to causes that are unrelated to our world.

"The third generation consists of billionaires in their fifties, and have no experienced the Holocaust or the wars. It is a generation with full rights and experience as Americans. Our previous generations dreamed that we would become American, and we did, and now the focus is on continuity. How do I keep my children and grandchildren Jewish, when mixed marriages are about 50%?" Hyman noted.

The new billionaires want to give, he added, but are not willing to just write a check and go home. It's not enough to be king of the Jews. The new generation chooses a new field of interest and demands to see an operative plan prior to investing money and time. They love Judaism, but first search to be convinced of the product and its effectiveness.
Pitching for funds
"It's not like the previous generation, which dedicated its time to the Jewish people. Today's philanthropist runs a $30 billion venture capital fund, meets with the US President and senior politicians," Hyman said, adding that "Nowadays there are fewer philanthropists, but more money."

Last week, Hyman initiated a groundbreaking move. The Center for Entrepreneurial Jewish Philanthropy (CEJP), which he founded and heads, hosted a venture capital convention, in which investors listened to entrepreneurs to chose initiatives that seem investment worthy.

For two days, some 75 Jewish philanthropists and their delegates arrived at the convention, to take a look at 17 entrepreneurs who run projects for Israel in the fields of media, policy, and hasbara. People flew in from Israel, Geneva, Paris, and across the US. Despite a heavy snow storm, closed roads and airports, philanthropists and organizations alike arrived at the convention.

Each entrepreneur presented his or her organization for ten minutes, and dedicated ten more minutes to try and convince potential donors of the organization's contribution.

Among the organizations – The Jerusalem Press Club (JPC), the Fuente Latina group and The Israel Project, which provides US media with information on Israel and its security challenges.

In terms of policy, several organizations presented their work at the convention, such as ELNET, working in Europe, mainly in France, Germany, and Spain, in promoting pro-Israel lobby groups. Unlike AIPAC, which is explicit in its diplomatic work with US Congress and administration, the Europen political structure forces organizations to focus on candidates for party chair in various countries and teach them about Israel and its needs. In Europe, that is, pro-Israel organizations are trying to set up sophisticated groups that do not mention the word Israel in their names.

Other diplomatic groups focus on promoting Israel-China ties, or monitoring the UN Watch, while emphasizing its anti-Israel moves.

Israeli ambassador to the UN Ron Prosor spoke at the convention, explaining to philanthropists the problems and needs regarding the UN position, also elaborating on needs in Europe, based on his previous post as Israeli ambassador to the UK.

Noam Katz, Minister for Public Diplomacy at the Israeli Embassy in Washington DC, used the opportunity to reveal to the philanthropists "the diplomatic challenges" Israel faces.

The most efficient way to represent Israel, many have suggested, is to bring as many people as possible to visit Israel – not only Jews and members of congress, but also journalists, college professors, and members of minority communities in the US.

"You board them on a helicopter for three hours and give them an understanding of Israel's security issues, like (former prime minister, the late Ariel) Sharon did to (former US President George W.) Bush," Hyman said. Such a helicopter tour costs $800 per person.
Hasbara superbowl
Hyman addressed the impending visit of Pope Francis to the Holy Land, noting it is a "hasbara superbowl," as masses of journalists are expected to arrive at the Jewish State, but only a few would be able accompany the Pope – the rest will need guidance, tours, interviews.

"There's no need for great funds for the Pope's visit. We're talking about some $200,000, and I go around philanthropists to assist with getting donations," Hyman said.
Risk of losing Jewish support in Israel
A third kind of organization works to improve Israel's reputation in campuses. "The other side is becoming more sophisticated in the media and in campuses. Visit US colleges and you'll see that Arabs are investing in Mideast studies. They're as good as we are in terms of lobbying, and they put a lot of effort in America," Hyman noted.

"We need to up our game. People who understand know that the best way to make an impact on a professor in Iowa is to put him on a plane to Israel. He needs to see the real Israel, with all its conflicts and disagreements. Make them spend a day with settlers and meet Palestinians in the West Bank. They need to see that Arabs have the right to vote, that most Israelis want peace, and that Israel is not a military stronghold."

That is, however, the root of the problem. According to Jeff Solomon, "only 17% of Jews support the settlements, and there is risk of losing the Jewish support in Israel." Beyond that, he noted, "unlike seniors, young people are no longer involved in the lives of Jews, which is why philanthropic support of Israel is at risk."

Will the new model mitigate that danger? Too soon to tell. The checks from the conventions were not expected to cash out immediately, but developments between the Israelis and the Palestinians are also likely to have an effect.