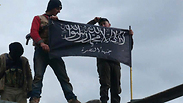 Al-Qaeda in Syria
Photo: AP
The civil war in Syria has become a matter of US homeland security over concerns about a small number of Americans who have gone to fight with Syrian rebels and returned home, new Homeland Security Secretary Jeh Johnson said Friday.

Johnson said he and other law enforcement and security officials around the world were focused on foreign fighters heading to the bloody war, including those from the United States, Canada and Europe.

In excerpts from his first major speech since taking office last year, Johnson did not discuss how many US fighters may be in Syria.

US intelligence officials have said a handful of Americans and hundreds of Europeans have already returned to their home countries. The officials spoke on condition of anonymity because they were not authorized to speak publicly on the issue.

The State Department has no estimates of how many Americans have gone to fight with Syrian rebels, but British defense consultant IHS Jane's puts it at a few dozen. An estimated 1,200 to 1,700 Europeans are among rebel forces in Syria, according to government estimates.

Director of National Intelligence James Clapper told the Senate Intelligence Committee last month that al-Qaeda groups in Syria have started training camps "to train people to go back to their countries" – one of the newest threats emerging in the past year to US security.

Clapper told senators that as many as 7,000 foreigners from some 50 countries, including Europe, were fighting with rebels and extremists in Syria.

To Johnson, it's not just people joining the fight in Syria that are a concern.

"At the same time, extremists are actively trying to recruit Westerners, indoctrinate them and see them return to their home countries with an extremist mission," Johnson said. "Syria has become a matter of homeland security. DHS, the FBI and the intelligence community will continue to work closely to identify those foreign fighters that represent a threat to the homeland."

Much like his predecessor at Homeland Security, Johnson also said he is most concerned about "lone wolf" terrorists who haven't received any specific training from al-Qaeda or other terror groups but instead have become self-radicalized.

"In many respects, this is the terrorist threat to the homeland – illustrated last year by the Boston Marathon bombing – that I worry about most," Johnson said. "It may be the hardest to detect, involves independent actors living within our midst, with easy access to things that, in the wrong hands, become tools for mass violence."

Johnson also touched on immigration his in prepared remarks, repeating earlier statements that immigration reform also is a matter of homeland security.