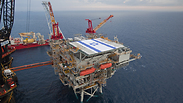 Exploration rig
Photo: Albatross
Israel has taken a step closer to becoming a natural gas exporter after Australia's Woodside Petroleum Ltd signed a deal to take a 25 percent stake in the huge East Mediterranean Leviathan gas field.

The Australian company, considered a leader in the booming liquefied natural gas (LNG) sector, signed a preliminary agreement on Thursday to buy a quarter of the Leviathan field off the coast of Israel for up to $2.55 billion.

Leviathan is estimated to hold about 19 trillion cubic feet (540 billion cubic meters) of natural gas, enough to supply all of Europe for over a year.

Energy Exports

Cost forecast is part of offshore well development plan US-Israeli consortium building natural gas field recently presented government with

The field is being developed by US-based Noble Energy Corp, which will remain the project's lead partner with a 30 percent stake, while the other groups involved, Israel's Delek Group, Avner Oil Exploration and Ratio Oil Exploration, will each sell one-quarter of their stakes to Woodside.

"Woodside is one of the leading companies in the world in the ... development of LNG facilities. The company brings with it rich experience ... and will be a significant boost for the Leviathan partnership," Delek Drilling and Avner said in a statement.

Woodside sees the Leviathan project as an important part of its strategy to diversify outside of Australia. It is also considering projects in Myanmar and Ireland.

Despite the prospect of lucrative gas exports, analysts said Leviathan would initially serve Israel's domestic market.

"Leviathan will be initially developed as a domestic gas project with gross production of 800 million cubic feet per day and first gas expected in 2017," Bernstein research said on Friday in a research note.

Once domestic supplies are up and running, Bernstein said that Woodside's involvement in the project meant that exports in form of LNG would become more likely.

"There will be up to 9 trillion cubic feet of gas exports. Although it remains uncertain whether gas exports will be as LNG or pipeline, Woodside's involvement increases the probability of a floating LNG scheme."

Analysts said the Leviathan field may also hold significant oil reserves of up to 720 million barrels, and that drilling was expected to begin in 2015.
Pipeline or LNG?
The biggest question regarding gas exports is whether they will come in the form of a pipeline or LNG terminal.

Israel has the option to build a pipeline to serve Europe's large but stagnating gas market or to invest in a more expensive LNG export terminal which would allow shipments to Asia's markets, where prices are currently twice as high as in Europe.

Although an LNG terminal would allow access to global markets, the cheaper option of a pipeline to Turkey and the Palestinian Authority has recently gained traction.

"From a Woodside perspective it's clearly not good news," said Macquarie Equities analyst Adrian Wood.

Critics of the pipeline option point out, however, that unresolved maritime claims in the East Mediterranean will make it difficult to get the inter-governmental deals in place that would allow the laying of a pipeline from Israel to Turkey.

Another option for the project would be to build a joint LNG terminal with Cyprus, which has also found large untapped gas reserves, and which could be jointly developed with Israel as they are close to the Leviathan field, although analysts here point out that Israel is reluctant to export its gas through a foreign state.
Long negotiations
Negotiations between Leviathan's partners and Woodside dragged on for more than a year as Israel's Supreme Court debated whether to allow natural gas exports, gas field studies were completed and options on developing the gas were debated.

The Israeli high court ultimately allowed exports of up to 40 percent of produced natural gas.

The proposed new deal, which Woodside aims to finalize in March, would also give Woodside a royalty on commercial oil production. That includes an up-front payment of $850 million.

Analysts say there is currently a global race to develop new gas fields as soon as possible before the vast new supplies pull down prices and threaten return of investments.

The United States is expected to begin LNG exports of its vast shale gas reserves in 2015, and Australia is also trying to become a top LNG exporter this decade, while Mozambique and East Africa also hope to develop their newly found huge offshore gas reserves within the coming years.