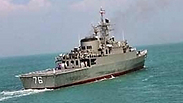 Iran's Northern Navy Fleet
A senior Iranian naval commander says his country has sent several warships to the Atlantic Ocean, close to US maritime borders for the first time.

The announcement came hours after Iran's Supreme Leader said the United States would overthrow the Iranian government if it could, adding Washington had a "controlling and meddlesome" attitude towards the Islamic Republic, Iranian media reported.

The commander of Iran's Northern Navy Fleet, Admiral Afshin Rezayee Haddad, is quoted by the official IRNA news agency as saying Saturday that the vessels have already begun the journey to the Atlantic Ocean via waters near South Africa.

"The Iranian Army's naval fleets have already started their voyage towards the Atlantic Ocean via the waters near South Africa," Haddad announced on Saturday.

The admiral was quoted by Fars as saying that "Iran's military fleet is approaching the United States' maritime borders, and this move has a message."

The fleet, consisting of a destroyer and a helicopter-carrying supply ship, began its voyage last month from the southern Iranian port city of Bandar Abbas. The ships, carrying some 30 navy academy cadets for training along with their regular crews, are on a three-month mission.

Haddad says the fleet is approaching US maritime borders for the first time. The Islamic Republic considers the move as a response to US naval deployments near its own coastlines. The US. Navy's 5th fleet is based in nearby Bahrain.

In September 2011, Iran's Navy Commander Rear Admiral Habibollah Sayyari had announced that the country planned to move vessels into the Atlantic Ocean to start a naval buildup "near maritime borders of the United States".

"Like the arrogant powers that are present near our maritime borders, we will also have a powerful presence close to the American marine borders," Sayyari was quoted by Fars as saying. Sayyari had at first only announced in 2011 that Iran was going to send "a flotilla into the Atlantic," Fars quoted him as saying.
Meddlesome and controlling
In a speech to mark the 35th anniversary of the 1979 Islamic revolution, Ayatollah Ali Khamenei, the most powerful figure in Iran, added that officials seeking to revive the economy should not rely on an eventual lifting of sanctions but rather on home-grown innovation.

Ayatollah Ali Khamenei (Photo: AP)

"American officials publicly say they do not seek regime change in Iran. That's a lie. They wouldn't hesitate a moment if they could do it," he was quoted as saying by the semi-official Fars news agency.

Khamenei made no mention of talks between Iran and world powers intended to settle a decade-old dispute about the Islamic Republic's nuclear program.

But he reiterated that in dealing with "enemies", Iran should be prepared to change tactics but not compromise on its main principles.

Khamenei added: "The solution to our economic problems is not looking out and having the sanctions lifted ... My advice to our officials, as ever, is to rely on infinite indigenous potentials."

He added: "Our (hostile) stance toward the United States is due to its controlling and meddlesome attitude."

Khamenei's comments about hostility reflect his long standing animosity towards the United States, seen as the arch-enemy by Iranian authorities.

The United States and Iran have had no official ties since 1980 after Iranian students occupied the U.S. embassy in Tehran, taking 52 diplomats hostage in protest against Washington's admission of the former Shah after he was toppled by the Islamic revolution.

But Khamenei has given his guarded support to the nuclear negotiations being led by the new reformist government of President Hassan Rouhani and Foreign Minister Mohammad Javad Zarif.

Iran says its nuclear program is peaceful and that it is Israel's assumed atomic arsenal that threatens peace. Western powers suspect that the program is a cover for pursuing a nuclear weapons capability.