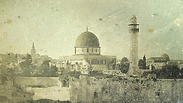 Jerusalem in the 19th century
Photo: Joseph-Philibert Girault de Prangey, from the Smithsonian website
Few places in the world are as documented and as disputed as Jerusalem – but two weeks ago, a new perspective of the city was made public when the Smithsonian website published the earliest photos ever taken of the Holy City.
Related stories:
The photographs are assumed to be taken by Joseph-Philibert Girault de Prangey, a French photographer who studied painting in Paris and showed an interest in architecture.
Girault de Prangey toured the countries of the Mediterranean region between 1841 and 1844, and visited, among other places, Italy and Jerusalem.
He died in 1892, but the hundreds of photographs he took were discovered only in 1920 in a shed at his home. Apart from Jerusalem, the snapshots make up the first documentation ever in the history of the region's countries, including Greece, Palestine, Egypt, Syria and Turkey.