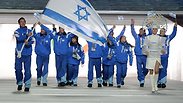 Millions of people watched the opening ceremony of the Sochi Winter Olympics, but it is doubtful whether they noticed the special and more modest treatment received by the Iranian delegation.

During the opening ceremony held at the Fisht Olympic Stadium, delegations from the different participating nations entered the stadium with a 'snow-maiden' chaperone clad in an all-white uniform from head cover to short skirt and boots.

The snow-maiden – or Snegurochka, a figure from Russian fairy tales – led the delegations into the stadium holding a sign with nations' names in English and Russian. When it was the Iranian delegation's turn to take to center stage and wave their national flag, the snow-maiden was wearing one more piece of white clothing – long pants under her skirt, concealing her legs.

It is safe to assume that the Islamic Republic requested their Snegurochka don additional garb in a bid to comply with modesty conventions prevalent for women in Iran. It is worth noting though that that the snow-maidens escorting other Islamic nations – like Lebanon, Morocco or Pakistan – were bare-legged.

Unlike the previous Olympics in London, the Iranian delegations came directly after the Israeli one, without any team serving as a buffer between the two nations.
One-of-five
The opening ceremony took place Friday night before 40,000 spectators and millions more watching on television, and took viewers on a race through Russian history with spectacular set pieces on a gargantuan scale.

The event, at the gleaming Fisht Stadium built on the shores of the Black Sea, was not without its problems.

One of the five Olympic rings failed to open properly, and when Russian state television noticed, footage of a successful rehearsal was used instead to conceal the glitch.

On Saturday, Russia's Games chief Dmitry Chernyshenko was questioned about the choice of triple Olympic figure skating champion Irina Rodnina to light the Olympic flame - a huge honor in the sporting world.

A national hero in Russia and member of parliament loyal to Putin, she caused an outcry in the United States last September by re-tweeting a photo-shopped picture showing President Barack Obama chewing and a hand waving a banana in front of him.

"Irina Rodnina is from the club of three-times gold medalist and one of the most respected in the world," Chernyshenko told reporters. "The Olympic Games are not about politics," he said.

Reuters contributed to this report