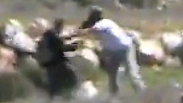 An Israeli activist from the leftist Ta'ayush organization was attacked on Saturday in the West Bank by a group of masked settlers who beat him with clubs.
The victim belongs to a group of activists who go every Saturday to south Mount Hebron region and conduct joint activities with local Palestinians. on Saturday morning, the activists said, they arrived to escort goat herders in an area belonging to Palestinians near Mitzpe Ashtamoa, a neighborhood in Mount Hebron.
Settlers attack leftwing activist
There were six goat herders in the area, and at a certain stage, the activists said, 15 masked settlers accompanied by IDF soldiers emerged from the outpost, and began to approach the activists. The soldiers remained at a distance throughout the incident, and it is far from certain that they saw the attack. At that point the activists began to partially document the event.
Related stories:
Danny Kronberg told Ynet that the incident began at 11 am, when some of the masked men approached him as he was standing at some distance from his friends.
"One of the masked men approached me and started pushing me, and then two more joined and began to kick me while I was lying on the floor, and striked me a club." Kronberg said he was injured in his legs and back.
"At first one of them thought I was a Palestinian and then he realized I was an Israeli and yelled at me why did I come here to support Palestinians," Kronberg added.
Krongberg said that the attack lasted a short time and that the settlers fled immediately after. At the time of the attack, the soldiers were apparently some distance from the location.
Later on, the masked men used slingshots to hurl stones at the activists. The activists said that the settlers called upon the soldiers to shoot the settlers, and threatened that if they won't do it, the settlers would shoot them themselves.