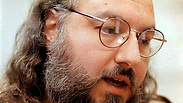 Jonathan Pollard
Photo: AP
Former CIA Director James Woolsey says anti-Semitism could be a factor in the US refusal to release a Jewish American jailed for spying for Israel.

Woolsey leads a group of high-ranking Americans which have spoken out in favor of releasing Pollard after he had spent so many years in jail.

Related stories:

Woolsey's told Israeli Channel 10 TV Saturday that Americans who spied for other countries including Korea and Greece were freed after short sentences, while Jonathan Pollard is still jailed after 25 years.

Pollard was a civilian intelligence analyst for the U.S. Navy when he gave thousands of classified documents to his Israeli handlers. He was arrested in 1985 and later sentenced to life in prison.

"I certainly don't think that it is universally true, but in the case of some American individuals, I think there is anti-Semitism at work here," Woolsey said.

He said others who did the same as Pollard were freed quickly.

In January, Israeli President Shimon Peres was presented a letter signed by 102 Knesset members requesting Pollard's release.

"It's my honor to be part of this important mitzvah (good deed) on behalf of the MKs and the entire nation," Peres said at the time, promising to dedicate the rest of his tenure to work for the spy's release.

Last December a former senior American security representative said Israel's request to free Jonathan Pollard was "chutzpah".

"Israel has taken chutzpah to new heights, simultaneously demanding that the United States stop spying on Israel and that it releases the guy caught spying on the United States for Israel", Stewart Baker, a former Homeland Security official in the administration of President George W. Bush, said in a blog post on The Volokh Conspiracy.

Baker was not referring to the Israeli media reports, but rather to the statements of two ministers, Intelligence Minister Yuval Steinitz and Tourism Minister Uzi Landau: "This moment is better than any other moment to have Jonathan Pollard freed."

It was, during that time, the first public response from a former senior representative that went out against Israelis' cries to free Pollard.

At the time, the Conference of Presidents of Major American Jewish Organizations sent a letter to President Barack Obama on Sunday asking him to commute Pollard's punishment, in order to have him released by next September, before the Jewish holidays.

"Pollard has served longer than any person convicted of a similar offense and his sentence should be commuted to the 28 years he has already served," the letter said.

The organization, which is aligned with Prime Minister Benjamin Netanyahu, also wrote that many former high-ranking officials in the American administration at the time of Pollard's arrest are not in favor of Pollard continuing to serve time in prison.

These include former secretaries of state Henry Kissinger and George Shultz, Woolsey and William Webster, the head of the FBI at the time of Pollard's arrest, who said that he no longer opposes his release.