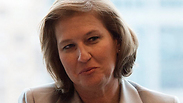 Justice Minister Tzipi Livni
Photo: EPA
Justice Minister Tzipi Livni may have hinted Sunday that a dispute over Palestinian recognition of Israel as a Jewish state - a major sticking point in the ongoing peace talks between the two sides - could be resolved soon, reportedly telling Knesset members that they could be "in for a surprise" on the issue.

Livni, Israel's chief negotiator in the talks with the Palestinians, purportedly made the comment during a heated debate by the Ministerial Committee on Legislative Affairs. The committe was discussing an amendment to the State Education Law, which would see the addition of an article stating, "Educating for the value of the State of Israel as the national state of the Jewish people."

The amendment, proposed by MK Shimon Ohayon (Yisrael Beiteinu), was passed by the committee and will now go to the Knesset plenum for a vote, but with certain specific conditions.

MK Ohayon's proposal led to a fierce discussion between coalition members, as Livni, Finance Minister Yair Lapid and Health Minister Yael German all expressed their opposition to the amendment. Meanwhile, Livni and Pensioner Affairs Minister Uri Orbach (Habayit Hayehudi) began bickering over the issue.

Orbach told Livni: "For us, it is clear that Israel is the Jewish national state, which the Palestinians will never accept."

But, according to those present at the debate, Livni retorted: "Wait, you're in for a surprise. What if they would be willing to acknowledge us as the national state for the Jews, would you be willing to divide the land then?" Orbach cynically responded: "Even without recognition I would be willing to do that."

Palestinian President Mahmoud Abbas has hitherto been adamant in his refusal to recognize Israel as a Jewish state, while Prime Minister Benjamin Netanyahu has been equally adamant that the Palestinians must do so in order for the peace talks to progress.

Livni had initially sought to postpone the ministerial committee vote until the Knesset's summer session, but Internal Security Minister Yitzhak Aharonovich insisted on carrying out the vote as planned.

The amendment was eventually approved, on condition that it is presented only for its preliminary reading, and then awaits a draft of the amendment submitted by Professor Ruth Gavison. Livni asked to hold off until the draft is submitted, and then only hold a thorough discussion on the subject.

MK Ohayon, the bill's initiator, said at the end of the vote: "The time has come to educate this generation and the next generations more clearly."