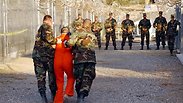 Guantanamo prison
Photo: AP
Amid renewed American promises to close down the notorious Guantanamo prison in Cuba, there is speculation that Socotra, an isolated island in the Indian Ocean, could host a new prison facility for Yemenis after they are released from the controversial US-run prison.
Eighty-seven Yemeni nationals are still being held out of a total of 166 prisoners in "Gitmo," 56 of whom have been recommended for release by a United States Justice Department task force. All of the Yemeni detainees have been held without trial for the past 12 years. More than five years ago, President Obama issued an order to close the Guantanamo, but it has yet to be carried out.
Related stories:
Located between Yemen and Somalia, Socotra is one of the most isolated corners of the planet. Home to some 800 varieties of flora and fauna, about a third of which do not exist anywhere else on earth, residents here fear that a prison could have negative ecological implications for this unspoiled area.
In Yemen, a US official told The Media Line that the establishment of a credible, sustainable counterterrorism program would be an important step for Yemen's government in bolstering its security capabilities. He would not confirm that there are plans to build a new prison facility on Socotra. "At this point, speculation and rumor (about a prison) is both baseless and unproductive."
Residents of the unspoiled island are not enthusiastic about the possibility of hosting dozens of detainees from Guantanamo.
"We do not want to make our beautiful island into a big prison," Fahmi Ali Ibrahim, a teacher in Socotra told The Media Line. "We will not accept to change our heaven here into a hell."
Fouad al-Ghafari, the bureau chief for the Minister for Human Rights Hooria Mashoor, told The Media Line that the press reports about opening a prison on the island are not true.
"At the same time, we are willing to rehabilitate the Yemeni inmates who will come home," he said. "We are following up on the cases of 56 inmates to bring them home."
Abdul-Aziz al-Dahri, a Yemeni government official in Socotra, told The Media Line that a meeting was held two months ago to discuss the possibility of opening a new detention center. He added that "if this news is true" the meeting unanimously rejected it and informed officials in the capital Sana'a.
There is also concern that moving the detainees to Socotra could give terrorist groups like Al-Qa'ida, which is already active in Yemen, a boost.
"If this news is true then it will be a catastrophe for the war on terrorism," the chairman of the Arab Forum for Studies Nabil al-Bukairi, wrote on his Facebook page.
Bukairi, who is also an expert on terrorist groups, added that this would serve al-Qaeda's interests and increase its popularity, and leave the government of Yemen looking like a traitor to its people.
Other Yemeni analysts said the detainees in Guantanamo should be allowed to return to their families.
"We do not want to repeat the U.S. experience of establishing a new Guantanamo in Yemen and we do not want to violate domestic and international law by detaining those inmates without a just trial," Ismael al-Suhaili, a professor of political science, told The Media Line.
Article written by Iscander al-Mamari. Reprinted with permission from The Media Line