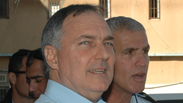 Police Commissioner Yohanan Danino
Photo: Muhammad Shinawi
Police chief says IDF partially responsible for recent organized crime assassinations
Yohanan Danino refers to recent cases of assassinations, hints IDF carries some of blame, as some of the explosives used by organized crime operatives are IDF property. 'We try to prevent the spilling of such explosives,' Danino says
Police Commissioner Yohanan Danino addressed on Sunday the recent chain of underworld assassinations in Israeli cities and said the issue was a national problem.

"The source of most of the explosives (used in the assassinations) is the Israeli Defense Forces," said the police commissioner. "We work closely with the IDF, and try to prevent the spilling of such explosives."

Related stories:

Danino, who made the remarks during a visit to the Akko Police offices, added that "we use technology and cameras in order to reach those who plant the explosives, also retroactively after the blast occurs. Statistically, despite the wide media coverage of the issue, the amount of blasts in 2013 was not greater in comparison to the previous year. But it doesn't matter. Each explosion is one too many."

"No police force in the world knows how to totally prevent these kinds of incidents. I hope we manage to make significant progress in this area. We thwart (such incidents) practically on a weekly basis; (the public) is unaware of most of our thwarting efforts," said Danino.

Danino added: "The criminals learned that the risk of placing an explosive is lower. If in the past they would use mainly gunfire to kill, they are gradually moving on to use more and more explosives, from the simple reason that the risk of using an explosive is not as great as it used to be. He (the criminal) does it in such times and areas that are not exactly under supervision."

MK David Tzur (Hatnua), who previously served as the District Commander of the Police in Tel Aviv, addressed the chain of assassinations in an interview with Ynet. "Five of these attacks in the course of two weeks? If it were hostile territory activity we would have been in a different place. The failure is in the prevention.

"The police is fully responsible for foiling and solving these crimes. The public's personal safety was significantly damaged, the burden of proof is on the police and the police commissioner," Tzur added.