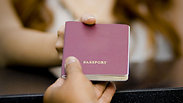 In pursuit of foreign passports
Photo: Shutterstock
For years, Israelis have been searching for the Ashkenazi connection that would allow them to receive the sought-after European passport. Thousands of them discovered over the weekend that the path to obtaining the passport is shorter than ever – and will actually be acquired through a Sephardic connection.
More than 500 years after King Fernando II and Queen Isabella I signed an edict ordering the expulsion of Sephardic Jews, the government in Madrid approved a law permitting the descendants of those expelled to claim Spanish citizenship without conceding the citizenship of the country of their residency.
Estimates place the size of the eligible demographic at 3.5 million Jews. At the same time, many questions arise: Why are so many Israelis searching for their surnames on the list, why is the option of leaving the country being considered so seriously, and what are the reasons for the pursuit for the European passport?
Professor Yossi Shain, head of the Political Science Department at Tel Aviv University, believes that the main goal is to "open up options". "Some will say that these options are in case of times of emergency, and that it is part of the history of the Jewish people, but we live in a global world in which many people have multiple citizenships. This is not a matter of lack of patriotism, but an economic opportunity and a chance to be a citizen of the world."
However, the security aspect is also part of the considerations. "Because of the reality in the Middle East and our geographical location, Israelis are always traveling," said Shain. "People who apply for Polish passports are taking advantage of opportunities. On the other hand, for many Israelis these options are not appealing. Others do not want to start a family abroad. Israelis are very connected to Israeli culture and to some extent can't manage without Israel, and so in many cases people are only utilizing their options."
The never-ending pursuit for the European passport does not surprise Zeev Tzahor, Professor of History at Ben-Gurion University and former President of Sapir College. "The Zionist assumption that the establishment of a Jewish state would give them a 'safe haven', as stated in the Zionist Congress in Basel, seems very distant today. If there's a place that's the least safe for Jews, it's the Jewish state. Even if not everyone admits it, some Israelis who are aware of the Jewish history, prepare a shelter for themselves, like every generation tends to do, to be on the safe side. That's the main reason for the attraction of the foreign passport."
Prof. Tzahor said that am EU passport is the most popular one, as it allows its owners the benefits of all countries belonging to the European Union. Nevertheless, he said he did not believe that many Jews will be successful in proving their Spanish lineage.
"Jewish genealogy is very hard to prove, unlike Christian genealogy, which has been very methodically recorded. Jewish genealogy relied on scripture sometimes, but that isn't sufficient proof," Tzahor noted, adding that accurate documentation will be hard to obtain.
Israelis who are already in the possession of a foreign passport report various experiences. Roee Dotan, 27, from Tel Aviv, for example, who has a French passport by way of his father's Algerian descent, said that he was happy to have the French passport not because he was thinking of emigrating from Israel, but so he could have the option to live in Europe for several years.
Daniel, 28, from Tel Aviv, who has a German passport, reflected the same sentiment, saying that he did not look at his foreign passport as an "insurance policy" in case something forces him to escape the Jewish State, but rather as "a tool in the global village, making my life comfortable. I have no interest in leaving the country; only an interest to live abroad, see the world."
According to him, "our generation feels very comfortable with our origins and Jewish heritage and we see ourselves as part of the world."
Roee, 32, from Holon, however, whose wife and children are in the possession of a German passport, admits that the thought of emigrating crossed his mind. After he and his family had spent three years in Germany, despite the fact that it was easier on the pocket to stay in Germany, they decided to return to Israel – "because of the weather, the distance from our families and friends... but anyway," he stressed, "in case there's an economic and security apocalypse, we have somewhere to run away to."
Yoav, 42, from Ra'anana, who has a Czech passport, admitted: "As far as I'm concerned, the passport grants me another citizenship because in a country like ours you never know what's going to happen tomorrow, or the next day, so it's good to have another passport. In case there's a security threat, the passport will give an alternative. At the moment, we're not considering moving there, but it opens up some possibilities for when the kids grow older."