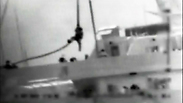 Footage from Mavi Marmara incident
Photo: AP
Israel and Turkey are nearing the return to normalization of relations, which had been critically severed by the Mavi Marmara flotilla incident in May 2010, according to Turkish Foreign Minister Ahmet Davutoglu, who was quoted in the Turkish Hurriyet Sunday.

"Recently there has been momentum, a new approach, in the negotiations about compensation. We can say that most of the disagreements have recently been solved by these discussions," said Davutoglu in an interview with Turkish television.

He added that there were "positive developments" in the talks regarding the compensation, and that there have been significant developments.

Related stories:

Davutoglu avoided announcing the amount of compensation that the families of those killed in the incident would receive, but he did say that the two sides are very close to reaching an agreement on the figure.

He told Turkish media that government officials will meet with the relatives of the deceased and update them on the results of the agreement with Israel. He added that Turkey is working on lifting the blockage on the Gaza Strip, saying that the topic has come up during the negotiations.

The foreign minister did not say when the Turkish ambassador to Tel Aviv would be reassigned, but he did note that diplomatic representation in Israel was "vital" to keeping a close watch on the transfer of humanitarian aid to Gazans.

The previously-close ties between Jerusalem and Ankara deteriorated in May 2010 because of the Mavi Marmara incident, in which nine Turkish citizens were killed by IDF fire.

For two years and ten months, Turkish Prime Minister Recep Tayyip Erdogan demanded Israel apologizes for the incident. Calls for prosecuting senior IDF officials and the soldiers who participated in the raid on the ship rang throughout Turkey.

Last March, at the end of US President Barack Obama's trip to Israel, Israeli Prime Minister Benjamin Netanyahu apologized to President Erdogan, leading the two sides to discuss an agreement that will normalize relations between the two states.