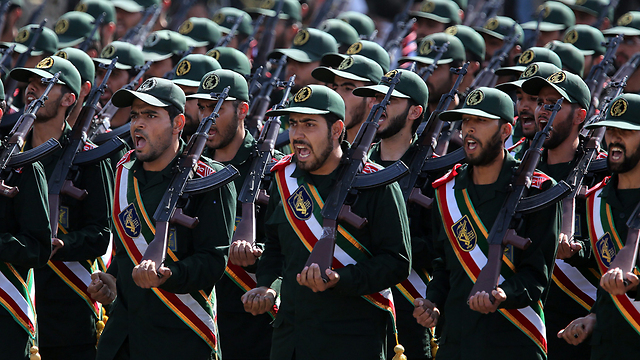 Iran's Revolutionary Guards (Archive)
Photo: EPA
TEHRAN - Hundreds of thousands of Iranians took to the streets Tuesday to mark the 35th anniversary of the Islamic revolution, with the same old chants of "Down with the US" and "Death to Israel."
In Tehran, huge crowds thronged central Azadi square ahead of a speech by President Hassan Rouhani, the relative moderate who has reached out to the West since taking office in August.
Many of them railed against the United States, still regarded by the Iranians as the "Great Satan."
Related stories:
In his speech, Rouhani dismissed any possible attack against Iran's nuclear facilities, should the Geneva talks fails.
"I say explicitly, if some have delusions of having any threats against Iran on their tables, they need to wear new glasses. There is no military option against Iran on any table in the world," he said in comments broadcast live on state television.
Neither the United States nor Israel has ruled out military action to prevent Iran from developing a nuclear weapon, while Tehran has long insisted its nuclear ambitions are entirely peaceful.
"We don't trust America. All they want is to plunder our wealth", a 20-year-old Bassij (Islamic militia)member told AFP.
"We are fine with enduring the hardships (of international sanctions) because it will lead to the preservation of our rights," he added as he joined the Tehran crowds.
The Islamic revolution ousted the US-backed shah, Mohammad Reza Pahlavi, and brought Islamists to power, setting in motion Iran's international isolation.
State media reported similar rallies elsewhere in Iran on Tuesday.
The traditional anti-American rhetoric came despite a significant political shift in Tehran, with the election last year of President Hassan Rouhani who is pursuing a policy of outreach to the West.
Also, Tehran and world powers struck a landmark nuclear deal in November under which Iran would cap its controversial uranium enrichment program in return for the easing of some sanctions by the West.
Iran and the P5+1 group of world powers are due to resume nuclear talks next week in Vienna on a comprehensive agreement to allay international concerns Iran is seeking nuclear weapons capability.
"Iran is committed to a fair and constructive negotiations within the framework of international regulations; we hope to witness such a willingness in the other party in the upcoming talks," President Rouhani said.
In parallel, Iran also made progress over the weekend with the UN nuclear watchdog by agreeing to divulge information that could shed light on allegations of possible past weapons research.
Under a deal reached in Tehran with the International Atomic Energy Agency (IAEA), Iran will explain its need for sophisticated detonators that could be used to initiate a nuclear chain reaction.
Rouhani, who has the support of reformists, insisted on Monday that Iran was "serious" about negotiations on a comprehensive deal with the P5+1 powers - The United States, China, Britain, France, Russia and Germany.
"Iran is ready to enter negotiations with the P5+1 to reach a comprehensive and final agreement," he told Tehran-based foreign diplomats.
"We are serious in this regard," he said.
Associated Press contributed to this report