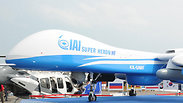 The new Super Heron
Photo: IAI
Israel Aerospace Industries unveiled on Tuesday the new Super Heron drone, a more advanced and effective model of the previous Heron drone that has been in operation with the Israeli Air Force for over a decade under the Israeli name Shoval.

The unmanned aircraft, which was simultaneously revealed in a weapons exhibition in Singapore and in the IAI facility in Israel, can travel in the air between 24 and 48 hours straight, depending on weight.

The new Super Heron's engine is larger than the previous model's, and stands at 200 horsepower, compared to 115 horsepower with the older Heron version. The larger engine will allow an aircraft ceiling of over 30,000 feet reach a speed of 150 knots and above.

The UAV's wingspan reaches 17 meters and its maximum takeoff weigh can reach up to 1,450 kilos. The maximum cargo content, including fuel, can reach up to 450 kilos.

Modern surveillance cameras and radars can be carried aboard the new drone. The Super Heron's ability to collect information is improved, among other things, due to the option to operate cameras on the aircraft's wings and the automatic takeoff and landing capabilities.

The initial cost of the IAI's new unmanned aircraft, in its basic model, is $15-20 million, and can reach up to $60-80 million with an operating carriage and according to additional specific customer needs.

IAI CEO Yossi Weiss praised the final product: "The Super Heron is a leader in unmanned aircraft capabilities both in Israel and the world, and allows better abilities for missions of reconnaissance, tracking, identification, target acquisitions, maritime patrol, and more."

A senior IAI official noted that several countries have already expressed interest in the Super Heron drone. "There is no UAV like the Heron that can fly for many hours with no accidents, and we have already been licensed to fly it over residential areas in Europe," the official said.