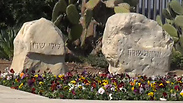 Ariel Sharon's grave
Photo: Barel Efraim
Thirty days after his passing, a memorial service was held for former Prime Minister Ariel Sharon at southern Israel's Anemone Hill on Tuesday.

Among the dozens of family members and friends who took part in the ceremony were former prime minister Ehud Olmert, Justice Minister Tzipi Livni, Moshe Kaplinsky, Avi Dichter, Sharon's former personal secretary Marit Danon and fellow veteran fighters who fought alongside Sharon throughout the years.

Memorial service for former prime minister Ariel Sharon (Video: Barel Efraim) ( צילום: אפרים בראל)

"His greatness was that he knew how to allow everyone around him to have personal freedom and to focus on contribution. That is why the people in his office knew how to get along with good spirits, with love, and with friendship," said Sharon's former personal drive, Gilbert Cohen.

"He always knew how to exude peace, even when things in the country were very tense. I'm going to miss him a lot."

Shula Zaken, Ehud Olmert's former aide, who also attended the ceremony, added that "he always gave me a father-like treatment. I have no doubt that he would have stood by me through everything I went through. He would never abandon friends."