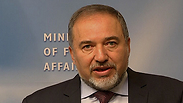 Avigdor Lieberman
Photo: Eli Mandelbaum
Foreign Minister Avigdor Lieberman will visit Paris on Wednesday for talks with his counterpart Laurent Fabius that will include the Iranian nuclear program, his ministry said Tuesday.

"France plays an important role on the international stage to prevent further nuclear program of Iran," said Lieberman's spokesman in a statement ahead of the minister's first official visit to France since 2009.

Related stories:

"The new ballistic missile test conducted Monday by Iran proves once again that its intentions have not changed, and that the Iranians do not want to hide their aggressive intentions," he added, referring to Iran's test of two new missiles.

"The threat is always the same, but (now it is) hidden behind smiles. This is the only change," the spokesman said.

The Foreign Ministry said that while in Paris, Lieberman will also meet with the Interior Minister of Manuel Valls, Secretary-General of the Organization of Economic Cooperation and Development (OECD) Angel Gurria, members of the France-Israel inter-parliamentary friendship group, and representatives of Jewish organizations.

Lieberman, leader of the right-wing Yisrael Beiteinu party, has long been considered a "hawk" in Israeli politics. But since his return to the Foreign Ministry in November, following his acquittal in a trial for corruption, he has worked to shed his image of the "pariah" of the international diplomatic scene.

The foreign minister recently backed US Secretary of State John Kerry after he came under fire from fellow members of the government, who accused him of exploiting the threat of international boycott to pressure Israel into negotiations with the Palestinians.

On Sunday, Prime Minister Benjamin Netanyahu said that easing sanctions against Iran was counterproductive, and had pushed Tehran to redouble its "aggression on the international scene."

This tone contrasts with that adopted by the United States and the European Union, who have decided to partially lift sanctions against Iran in the hope of reaching an agreement on Tehran's nuclear program.

Negotiations with the P5+1 (the United States, China, Russia, France, the UK and Germany) on a comprehensive agreement with Iran are set to begin in Vienna on February 18.